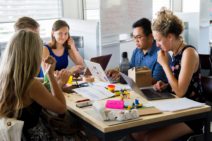 Teach Your Students to Promote Organizational Development and Build Leadership Skills
Efforts to impact change in any kind of organization usually involve multiple kinds of negotiations or consensus-building efforts. Organizational development is most effective when the participants in the organization, whether public, private or civil society, are directly engaged in deciding what might need to change, and in implementing changes through a process of organizational learning. The Teaching Negotiation Resource Center (TNRC) offers teaching materials that focus on top-down as well as bottom-up organizational change efforts, with an emphasis on multi-party negotiation, building of strategic alliances, and the development of leadership capabilities.
This two-party, thirty minute, intra-organization negotiation is between a company's financial and human resources officers regarding the amount of a budget increase. T. Boyd, a Vice President of Budget and Finance at Multimode, Inc., (a manufacturing firm) is about to meet J. Arnold, a Vice President of the Human Resource Development Office at Multimode. T. Boyd has formally met with other departments to discuss the upcoming year's budget as well as expected productivity increases. Major lessons include:
The advantages and disadvantages of truthfully revealing bottom lines.
The parties presume there is a gap between what one can offer and what the other can accept. In fact, there is an overlap. Their initial perceptions shape their subsequent efforts to probe for information.
The meaning of "success" in negotiation.
Download a free sample teacher's package today.
This one and a half hour, five- to six-person negotiation is between search committee members asked to reach consensus on characteristics needed for a new leader to right a financial company in crisis. Browning Brothers' CEO was recently fired because of financial and legal irregularities that threw the company into a dire situation where its very existence is in jeopardy. At the initial meeting each search committee explores the nature of leadership and reaches consensus on what kind of leader the company needs to survive and reports its findings to the full board. Major lessons include:
Effective leadership, rather than being a personal quality that resides in special individuals, is vitally dependent on the context of the organization, its particular needs at a given moment, and whether its leaders have the skills to meet those needs.
Negotiation is a crucially important skill for any leader. How leaders negotiate determines in large measure their ability to achieve organizational objectives.
Effective organizational leadership requires skill at conducting multilateral negotiations and effective coalition building.
Download a free sample teacher's package today.
This five-person, four hour, multi-issue, facilitated negotiation is among four managers and a Human Resources facilitator over the design of the company's new account system. Major lessons include:
Gathering information about interests and options.
Packaging agreements across interests that are valued differently.
Managing a process of agreement through coalition building.
Practicing the functions and responsibilities of human resource facilitators.
Download a free sample teacher's package today.
_____________________
Take your training to the next level with the TNRC
The Teaching Negotiation Resource Center (TNRC) offers a wide range of effective teaching materials, including
TNRC negotiation exercises and teaching materials are designed for educational purposes. They are used in college classroom settings or corporate training settings; used by mediators and facilitators seeking to introduce their clients to a process or issue; and used by individuals who want to enhance their negotiation skills and knowledge.
Negotiation exercises and role-play simulations introduce participants to new negotiation and dispute resolution tools, techniques and strategies. Our videos, books, case studies, and periodicals are also a helpful way of introducing students to key concepts while addressing the theory and practice of negotiation and conflict management.
Check out all that the TNRC has in store >> 
Related Posts