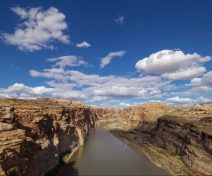 With the south-western United States experiencing a years-long drought which has dramatically depleted the Colorado River, there are many signs that water conflicts will become more frequent. Negotiating cross-border water conflicts requires balancing political interests, power dynamics, scientific research, and legal parameters. Success in water negotiations hinges on prediction and monitoring arrangements as well as the adequacy of water flows. Negotiators engaged in water conflicts must gain comfortability with managing the complex dynamics at the negotiating table as well as the scientific models and terminology which come into play. To help students learn to navigate these types of cross-border water conflicts, the Teaching Negotiation Resource Center (TNRC) has a variety of water conflict-focused simulations, including: Managing Groundwater Beneath the Pablo-Burford Border, Indopotamia, Finn River Basin, and Pearl River. Students should also check out Water Diplomacy: A Negotiated Approach to Managing Complex Water Networks by Shafiqul Islam and Lawrence Susskind to gain background on the broader issues of water management.
This two-team, ten-person, multi-issue, co-chaired negotiation is between representatives of two adjacent countries regarding the transboundary management of a severe water shortage crisis. The fictional countries of Pablo and Burford face a water crisis brought on by extreme water quality and quantity problems. The dismal water situation is largely a result of unsustainable agricultural activities in the borderlands separating the two countries. Two years ago, the Presidents of Pablo and Burford instructed the responsible national authorities to prepare a sustainable agricultural and water protection plan. Since then, the Burford Environmental Department and the Pablo Agriculture Department having been working to organize a joint summit to negotiate the framework of such a plan. In the midst of summit planning, a new controversy regarding agrochemical pollution of borderland groundwaters emerges. The summit now has been scheduled for six months earlier than originally planned. The summit will be co-chaired by representatives of the Burford Environmental Department and the Pablo Agriculture Department. The other participants include the Governor of the Burford border state of Grady and representatives from a number of national and international NGOs with interests in groundwater policy. The agenda includes nine decision items, and the participants are expected to reach agreement by at least a two-thirds vote on all nine items. Major lessons of this simulation include:
Importance of agenda control in a negotiation.
Power of option generation.
Repercussions of voting procedures on the content and sustainability of the outcome.
Importance of reaching agreement on terms and scientific facts before negotiating.
Download a free preview copy of the Managing Groundwater Beneath the Pablo-Burford Border Teacher's Package to learn more this simulation.
This nine-party, mediated, multi-issue negotiation involves a dispute over the allocation of land and water resources shared by three countries in an international river basin. The simulation provides opportunities to discuss the natural, societal, and political dimensions of science-intensive policy disputes in which high levels of uncertainty are involved. The simulation also introduces water professionals and aspiring water professionals to the Water Diplomacy Framework. Major lessons include:
The mutual gains approach to negotiation.
Negotiating science-intensive policy disputes.
Dealing with uncertainty in negotiation.
Download a free preview copy of the Indopotamia Teacher's Package to learn more about this simulation.
This seven-party, seven-person, multi-issue negotiation involves a dispute over inter-provincial water allocations. Concerned about continued drought and the mismanagement of water resources in the Finn River Basin, the Ministerial Council of the Alba national government has convened a meeting of key stakeholders to advise on improved water-management strategies for the Basin. A representative from the Ministerial Council, who has received specific instructions from the national government, will facilitate the meeting. The other stakeholder participants include representatives from each of the four Alban states that share the Finn River Basin—Northland, Eastland, Southland, and Darbin—along with representative from the Ministry of the Environment (a national government agency), and a representative from the Basin Authority (an independent body consisting of politically appointed leaders from each of the four states). If the Ministerial Council representative and at least five of the other stakeholders can reach agreement on a proposed package of actions, the Ministerial Council has agreed to cover the cost of implementation. If at least six of the seven participants cannot reach agreement, it is likely that the Ministerial Council will impose its own Basin-management plan and force the states to pay some or all of the cost of implementation. Major lessons of this simulation include:
Exploring issues of prediction and monitoring, water sharing, and the environmental adequacy of water flows.
Using a mutual-gains approach to negotiation.
The benefits of a more collaborative, non-zero- sum approach to managing boundary waters.
Download a free preview copy of the Finn River Basin Teacher's Package to learn more about this simulation.
This seven-party, facilitated, multi-issue negotiation simulation for eight or nine participants is about the management of dams in a coastal basin. The Pearl River basin is a coastal basin that includes the Pearl River and its tributary, the Mill Creek. Multiple stakeholders with diverse interests and concerns are interested in the dam-related issues in the basin. There are three hydropower dams on the Pearl River and two non-hydropower dams on Mill Creek. All dams have varying levels of fish passage, ranging from no passage to adequate passage. Dam A on Mill Creek is owned by the Town of Allen and has recently received a Notice of Public Safety from the State Water Resources Division (State WRD). The town must decide how to address the Notice and whether it makes sense to consider the future of other dams in the Pearl River basin as it makes its decision. Major Lessons of this simulation include:
Dam decisions are multi-issue negotiations that involve linked social and ecological systems, feedbacks over spatial and temporal scales, many stakeholders, overlapping legal and procedural frameworks, and scientific uncertainty.
Paying careful attention to preparation, including ensuring the right parties participate, are prepared, and interact throughout to bring both expert and local/experiential knowledge to bear on the decision.
Setting an agenda which includes opportunities for stakeholders to share information about quantifiable interests and non-quantifiable interests, time to brainstorm multiple alternatives and develop new alternatives, and time to agree on performance criteria for deciding between alternatives.
A neutral party can provide critical process management services before, during, and after decisions.
Download a free preview copy of the Pearl River Teacher's Package to learn more about this simulation.
___________________
Take your training to the next level with the TNRC
The Teaching Negotiation Resource Center offers a wide range of effective teaching materials, including
TNRC negotiation exercises and teaching materials are designed for educational purposes. They are used in college classroom settings or corporate training settings; used by mediators and facilitators seeking to introduce their clients to a process or issue; and used by individuals who want to enhance their negotiation skills and knowledge.
Negotiation exercises and role-play simulations introduce participants to new negotiation and dispute resolution tools, techniques and strategies. Our videos, books, case studies, and periodicals are also a helpful way of introducing students to key concepts while addressing the theory and practice of negotiation and conflict management.
Which negotiation exercises have helped you? Let us know in the comments.
Check out all that the TNRC has in store >>
Related Posts