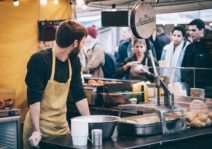 To hear some salespeople and service representatives tell it, difficult behavior from customers is at an all-time high. Stories of demanding customers proliferate in the press and on social media, while customers likewise complain that their needs increasingly are not being met by companies focused only on the bottom line. Executives and managers who are struggling to determine how to deal with difficult customers would be wise to begin by examining the potential triggers of seemingly difficult behavior. When your customers are lashing out or making impossible demands, it may be because your business practices have pushed them to the limit. It's important to figure out how to handle customers before they are labeled as difficult.
In particular, you may be able to increase customer satisfaction by focusing on your employees' working conditions and training. The following guidelines can help your organization reduce the odds of dealing with difficult people in the first place.
Give Employees the Tools They Need to Know How to Deal With Difficult Customers
When it comes to handling stressful situations at work, employees may lack the authority, guidance, and skills they need to make appropriate decisions when dealing with customers. Consider the much-publicized forcible removal of a passenger, Dr. David Dao, from a United Airlines flight on April 9, 2017. After Dao refused to give up his seat to a flight crew member, United personnel called in airport security officials, who dragged Dao off the plane, leading him to suffer injuries and be hospitalized, according to his attorney. Video of the incident went viral and provoked outrage from the public.
After initially framing Dao as a difficult customer, United eventually apologized for the incident and announced new policies aimed at preventing similar debacles in the future, such as not requiring boarded passengers to give up their seats, not asking law enforcement to remove passengers overbooking issues, and raising the maximum sum offered to passengers to relinquish their seats from $1,350 to $10,000.
Sometimes customers are unfairly labeled "difficult people" due to inadequate, confusing, or poorly thought-out policies and protocol. By setting clear standards regarding the treatment of customers, managers can help employees better manage challenging situations and ensure that all parties are treated with dignity and respect. After clearly defining policies, managers should empower employees to make wise, humane decisions within those boundaries.
Increase Employee Satisfaction
Customer dissatisfaction can be a natural outgrowth of employees' dissatisfaction with their work. According to a 2013 study by Shu-Cheng Steve Chi of National Taiwan University and his colleagues published in the Negotiation Journal, the degree to which salespeople enjoy their work has a significant impact on customer satisfaction with the outcome of sales negotiations.
The study examined negotiations over the price of eyewear between salespeople and customers at the stores of a large Taiwanese eyeglasses company. Salespeople who reported high levels of job satisfaction and who spent a relatively long amount of time introducing the store's products and services achieved relatively high levels of customer satisfaction. In fact, employee satisfaction was more effective than price concessions at promoting customer satisfaction. By contrast, salespeople who were relatively unsatisfied with their jobs were unable to capitalize on the time they spent introducing products and services to customers.
The results suggest that organizations may be able to improve customers' satisfaction and generate repeat business, by taking steps to improve employee satisfaction, particularly by ensuring they have sufficient time to engage with customers and by training employees in effective communication strategies. The more satisfied a customer is, the less likely she is to engage in behavior that employees find to be difficult.
Teach Employees Conflict Resolution Skills
When it comes to learning how to deal with difficult customers, customer service personnel are often taught to adhere to simple rules of thumb, such as "The customer is always right." But when dealing with difficult customers, employees need more than just platitudes; they need the appropriate tools.
Conflict resolution training can be a powerful means of enabling employees to defuse rather than escalate confrontations with angry or otherwise difficult-seeming customers.
Through training in interest-based conflict resolution, employees can learn active-listening skills that will enable them to identify the interests underlying a customer's anger or frustration. By giving customers an opportunity to express their viewpoints fully, without interrupting them or becoming defensive, employees can gain a deeper understanding of what went wrong and how they can help fix the situation to make the client happy. Customers who make seemingly unreasonable demands could believe it is their only way of being heard. When they find someone who is willing to listen without judgment, they are likely to lower their demands and become a lot more open to searching for shared solutions.
What strategies have you used when deciding how to deal with difficult customers? Share your experiences with our readers in the comments section.
Related Posts