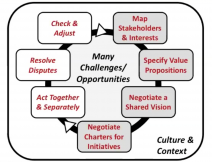 Professors Joel Cutcher-Gershenfeld and Kimberlyn Leary led a virtual discussion on negotiating change during COVID-19
How do industries and societies negotiate and manage momentous change during the COVID-19 pandemic? Professor Joel Cutcher-Gershenfeld, of the Heller School for Social Policy and Management at Brandeis University and Editor of the Negotiation Journal, and Professor Kimberlyn Leary, of Harvard Medical School and the Harvard T.H. Chan School of Public Health, recently led a virtual discussion, hosted by the Program on Negotiation (PON), on the intersection of negotiation and change management principles, while seeking to make a difference in thinking about societal responses to the COVID-19 pandemic. Their session was organized around the rule of 3:  three negotiation challenges posed by the pandemic; three relevant negotiation principles; and three relevant change management models. In case you missed it, check out the video of their talk below:
To learn about more virtual discussions hosted by PON, check out the Events Page.
________________________
Take your training to the next level with the TNRC
The Teaching Negotiation Resource Center (TNRC) offers a wide range of effective teaching materials, including
Most TNRC materials are designed for educational purposes— for use in college classrooms or corporate training settings. TNRC cases and exercises help mediators and facilitators introduce their clients to a process or issue and help individuals who want to enhance their negotiation skills and knowledge.
Role-play simulations introduce participants to new negotiation and dispute resolution tools, techniques and strategies. Videos are also a helpful way of introducing viewers to key concepts, and TNRC books, case studies, and periodicals address the theory and practice of negotiation and conflict management.
Check out all that the TNRC has in store >> 
Related Posts