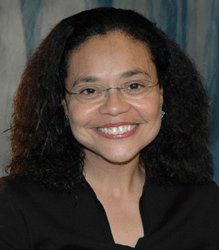 Kimberlyn Leary is an associate professor of psychology at Harvard Medical School and an associate professor of health policy and management at the Harvard TH Chan School of Public Health, where she is the "Enabling Change" program director. Leary is also the executive director of policy outreach at McLean Hospital/Partners Healthcare. In 2009, received an MPA from the Harvard Kennedy School, attending on a Public Services Fellowship. From January 2015 to July 2016, she served as an advisor to the White House Council on Women and Girls for one year, developing the "Advancing Equity" initiative, which focused on improving life outcomes for women and girls of color, and for an additional six months, as an advisor to White House Office of Management and Budget's Health Division.
Professor Leary's major areas of teaching and research are directed at enhancing effective collaborative practice. Her published work addresses relational perspectives in psychotherapy, diversity and inclusion in healthcare settings, and effective practice in negotiation and mediation. Her 1997 paper on race and self-disclosure won the American Psychoanalytic Association's Karl Menninger Prize. She is the 2007 recipient of the Ernest and Gertrude Ticho Award of the American Psychoanalytic Association. In 2010, she received the American Psychological Association's Division of Psychoanalysis award for clinical scholarship. In 2014, she was selected as a Robert Wood Johnson Health Policy Fellow. Her research interests include (with Michael Wheeler) the role of first impressions in shaping initial dialogues. Her current work is focused on delineating interpersonal exchanges that promote change and collaborative decision-making. She has published an extended study of "critical moments" in an international mediation to end armed conflict in Aceh, Indonesia and researched (with James Sebenius and Josh Weiss) a social enterprise venture in the Middle East (the "Abraham Path Initiative") aimed at capacity building in the region. At PON, she chaired an interdisciplinary faculty working group of clinicians, mediators and negotiation scholars. She also coordinated a faculty working group on "critical moments" which culminated in a two-day conference. The conference papers were published as an issue of the Negotiation Journal. Currently, she is working with David Laws of the University of Amsterdam on a participant research project developing interviewing frames to promote dialogues about inter-cultural conflict and on a study with Michael Wheeler on emotion and negotiation.
Professor Leary has taught courses and seminars at the University of Michigan and at Harvard Medical School on negotiation, clinical technique and on public policy and mental health. She has served as a Tutor to third year medical students in the "Doctor-Patient" sequence and as a member of the teaching team for the course "Physician in the Community," assisting medical students planning programs of intervention in global contexts. Leary sits on the editorial boards of the Psychoanalytic Quarterly, Studies in Gender and Sexuality, Psychoanalytic Psychology, the Harvard Mental Health Letter and the Harvard Negotiation Journal. She holds degrees from Amherst College and the University of Michigan where she was also a Postdoctoral Research Fellow. In addition, Leary was graduated from the Michigan Psychoanalytic Institute. She has received fellowships from the Ford Foundation, the American Psychoanalytic Association and the Committee on Institutional Cooperation (CIC). She is currently a fellow at the Women and Public Policy Program at the Harvard Kennedy School and with the New America Foundation's International Security Program as well as a senior advisor to the CEO at the National Math and Science Initiative, and a Trustee of Amherst College.
Select Publications:
Leary, K. & Wheeler, M. Crossing the threshold: First impressions in negotiation and psychotherapy.  Journal of Applied Psychoanalytic Studies, 2003; 5 (1): 81-105.
Leary, K.  Critical moments as relational moments.  Negotiation Journal, 2004; 20(2): 311-338.
Balachandra, L., Crossan, M., Devin, L., Leary, K. & Patton, B. Improvisation and teaching negotiation: Developing three essential skills.  Negotiation Journal, 2005; 21 (4), 435-442.
Leary, K.  Racial insult and repair. Psychoanalytic Dialogues, 2007; 17, 539-549.
Leary, K.  Engaging extremists: Diplomacy through de-radicalization. Harvard Kennedy School Review, 2009; 9, 113-117.
Leary, K., Sebenius, J. and Weiss, J. "Negotiating the Path of Abraham." Harvard Business School Working Paper, 2009; No. 10-049.
Leary, K. From the Balkans: Reflections on a Peace-building Trip to Serbia and Kosovo. Journal of Culture and Psychoanalysis; in press, 2010; 15 (1), 100-108.
Leary, K. Race as adaptive challenge, Psychoanalytic Psychology, 2012, 29: 279-291.
Leary, K., Pillemer, J. & Wheeler, M. Negotiating with emotion. Harvard Business Review, 2013, Jan-Feb.
Leary, K. (2014). When medicine is not enough: Negotiation fundamentals for phyisicians. Healing Under Fire: The Case of Southern Thailand. Eds. Virasakdi Chongsuvivatwong Louisa Chan Boegli and Supat Hasuwannakit. The Deep South Relief and Reconciliation (DSRR) Foundation and the Rugiagli Initiative (tRI): Bankgok, Thailand.