The Program on Negotiation (PON) offers a semester-length seminar on mediation and conflict management designed to raise your awareness of your own approach to conflict. Led by David Seibel and Stevenson Carlebach, renowned mediators and dynamic instructors, this semester-length course explores a range of mediation scenarios and features guest speakers, real-world case examples, hands-on exercises, and role-playing scenarios. You will be introduced to a range of theories about mediation and participatory processes, including: mediation styles, ethical dilemmas, dealing with difficult behavior, mediation in litigation contexts, managing conflict in the workplace, and mediating complex public policy disputes.
Can't attend the program in person? Join the live session via Zoom!
Whether you want to be a better mediator, or just better at helping others deal with their conflicts, this course explores the theory and skills you need – register today!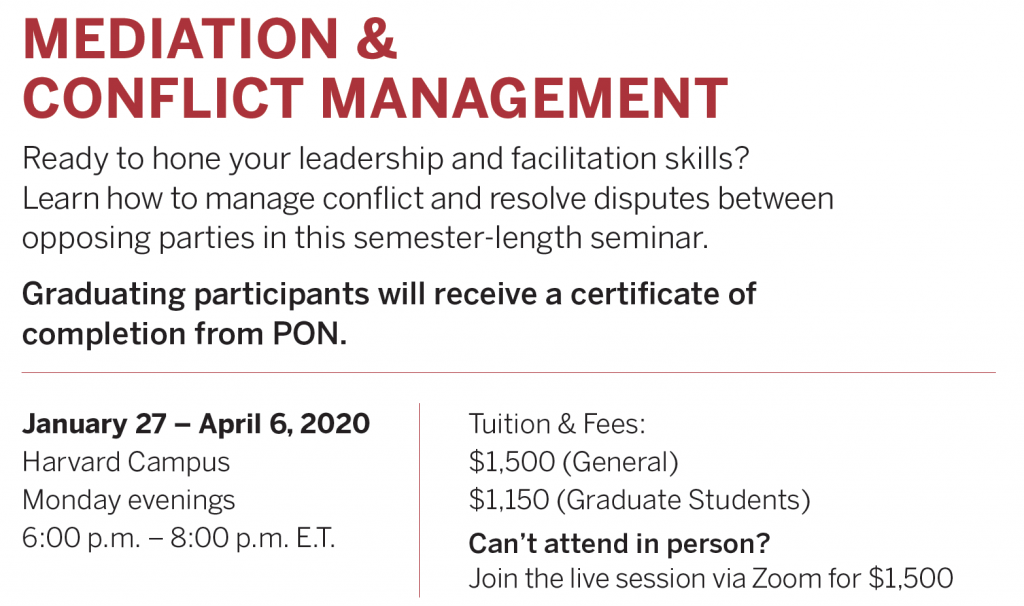 The seminar is open to people from all backgrounds and brings together a diverse array of participants: professionals, graduate students, fellows, executives, and community members. Students will earn a certificate upon completion of the program.
For more information and to register online, click here! 
Related Posts