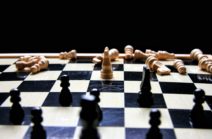 To help teach key negotiation skills the Teaching Negotiation Resource Center (TNRC) has developed a wide range of negotiation games that reflect the full breadth and depth of business and commercial negotiations.
Private sector or commercial negotiations can range from relatively straightforward, high-stakes contract negotiations between suppliers and distributors to complex, multiparty negotiations between government, industry, and other interest groups. By honing their skills and more effectively engaging in negotiations, firms can positively influence their bottom line. Likewise, government officials and other stakeholders will achieve better outcomes if they understand how to successfully negotiate when government and private firms are involved.
Highly effective and engaging, negotiation games are used to expose participants to a range of negotiation and dispute resolution tools, techniques and strategies. Role-plays help facilitate dynamic learning, as participants explore issues from both sides of the table, experiment with different approaches to resolution, and have an opportunity to see the results.
Two of the TNRCs most useful negotiation games for learning how to negotiate business and commercial disputes are Bullard Houses and Aerospace Investment.
Venture capital firm, Aerovent Capital, is considering a $100 million investment in a startup company, Earth Escape. Leaders of both firms must negotiate a term sheet and structure a deal that protects their individual interest, yet also creates a positive foundation for their potential collaboration. In this competitive and engaging negotiation game, individuals are scored on their ability to attain favorable investment terms for themselves and on the quality of the relationship they develop with their potential business partner. The simulation introduces the incorporation of a process and relationship interest into negotiation strategy. Students will:
Assess their ability to deal with difficult demands while maintaining a positive relationship
Examine their perceived relationship and situation
Explore the role of reciprocity
Discuss the integrative approach to negotiation
Gain a better understanding of the totality of a negotiator's interests
Negotiating Skills and Negotiation Tactics: Aerospace Investment Negotiation Role-Play Simulation
You can see the Aerospace Investment negotiation game being played by participants in this short, two-part video.
Part A:

and Part B:

The seller, Downtown Realty, has three offers on the table as of its meeting with this potential buyer, Absentia Limited. Of these three offers, the best was made by Grouse, Inc., a company that would turn the Bullard Houses into another Quincy Market. The case compares current offers to any offer made by Absentia Limited, requiring participants to:
Calculate the present value of each of the prior offers
Determine both the buyer and seller's BATNA and Reservation Value
Examine different ways to communicate BATNA to a negotiation counterpart
Frame different positions, options, and interests
Negotiating Skills and Negotiation Tactics: Bullard Houses Negotiation Game
You can see students practicing the Bullard Houses negotiation game in this free video:

The Bullard Houses was also one of the negotiation games used in a recent study at the University of California, Berkeley on the role gender plays in negotiation. The study focused specifically on whether the stereotype of women being more easily misled than men, was actually true. You can read more about the study and its findings here.
In addition to offering more than 200 negotiation games, the TNRC offers a wide range of effective teaching materials, including:
TNRC materials are designed for educational purposes. They are used in college classroom settings or corporate training settings; used by mediators and facilitators seeking to introduce their clients to a processor issue and used by individuals who want to enhance their negotiation training and knowledge. Negotiation games introduce participants to new negotiation and dispute resolution tools, techniques and strategies. Our videos, books, case studies, and periodicals are also a helpful way of introducing viewers to key concepts while addressing the theory and practice of negotiation and conflict management. Check out all that the TNRC has in store >>
Have you tried any of these negotiation games? Share your experience in the comments.
Related Teaching Negotiation Article: Negotiation Simulations with Global Impact
Originally published in 2014.
Related Posts