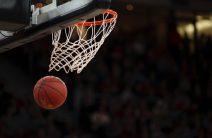 In February 2022, Women's National Basketball Association (WNBA) star Brittney Griner was arrested in Russia, where she plays for a professional basketball team during the WNBA offseason, after being accused of bringing vape cartridges with cannabis oil into the country. She faces 10 years imprisonment in a Russian penal colony. Given the extreme tensions between the United States and Russia over the war in Ukraine, Griner's chances for a speedy release appear slim. As the United States faces government negotiations with Russia regarding Griner's release, we take a closer look at the complexities of the case.
To Publicize or Not to Publicize?
Initially, Griner's supporters in the United States avoided drawing attention to her plight. Government negotiations between the United States and Russia would be delicate, and the Biden administration didn't want public outcry to sour the talks.
But as weeks dragged into months, and Griner remained imprisoned, those close to her began publicly calling on the U.S. government to work harder to free her. Griner's wife, Cherelle Griner, became "the public face of the campaign to secure her release," according to Politico.
In May, the U.S. State Department said it had determined that Griner had been "wrongfully detained," a designation that transfers the case to its hostage affairs office—essentially turning negotiations for her release into hostage negotiations. On July 7, Griner pled guilty in a Russian court, saying she accidentally brought the banned substance into the country while packing quickly. U.S. representative Colin Allred of Texas said she was being subjected to a "sham trial" in Russia and had been "wrongfully detained in the first place," the New York Times reports.
Maximalist Demands
Griner's best chance to secure her freedom would be through a prisoner exchange between Russia and the United States, according to the Times. But Biden's options for securing Griner's freedom are complicated by two main issues, according to Politico.
First, with pressure on Biden to negotiate her release, "the Russians are making maximalist demands in exchange for Griner," one U.S. official told Politico. In particular, the Kremlin has suggested it might want to exchange Griner for Viktor Bout, a Russian arms dealer and former Soviet military officer who has been serving a 25-year sentence in the United States since 2011. But given that Bout's weapons network wreaked havoc across the globe, the U.S. government is loath to give him a second chance.
Second, as Russian president Vladimir Putin's war on Ukraine grinds on, he might want to use Griner as a bargaining chip to gain sanctions relief from the West, according to Politico. That is likely a nonstarter for the White House, which wants to keep pressure on Putin to end the war.
A Parallel Track to Government Negotiations
Aside from the official government negotiations, some close to Griner enlisted Bill Richardson, a former governor of New Mexico with years of experience negotiating the release of hostages, to negotiate on Griner's behalf with Russia.
Griner now has "the best of the government and the best of the private sector," Jonathan Franks, a spokesperson for a family that worked with Richardson to secure the release of a relative from Russia, told Yahoo Sports. But the Biden administration reportedly looks at Richardson "with some annoyance, viewing the freelance diplomatic efforts as a bit of a publicity stunt and an occasional complication with official efforts," according to Politico.
Managing High-Stakes Government Negotiations
The government negotiations to secure Griner's release raise the following issues for those working toward closing the deal in negotiations with a difficult negotiating partner:
Weigh the risks of going public. Generally speaking, negotiations are more productive when conducted in private, especially when trust is low. Parties tend to speak freely when they don't have to worry about public scrutiny of their proposals. But if you are being represented by negotiators who seem ineffective or slow, you might draw public attention to your negotiation goals to move talks forward. Just be aware of the risk of antagonizing those at the table.
Accurately assess your bargaining power in negotiations. The Russian government has the upper hand in government negotiations over Griner's release because it is holding her captive. Further, the most obvious concessions the U.S. government could make to bring her home, such as loosened sanctions or Bout's release, would hinder U.S. policy interests. In such difficult negotiations, the key is often to "stay at the table, especially after failed negotiations," writes Harvard Business School professor Deepak Malhotra in his book Negotiating the Impossible. With time, power may shift, and new tradeoffs may emerge.
Manage two-track negotiations. The parallel private and government negotiations in the Griner case offer both perils and opportunities. Richardson's involvement could spur the White House to try to ramp up negotiations for Griner's release. But if private negotiations lead to a deal that works against broader U.S. concerns, there could be problems. Whenever negotiations proceed on two tracks, parties need to carefully coordinate their efforts.
What have your experiences with government negotiations been like?
Related Posts