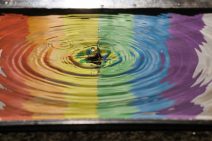 Policymakers, practitioners, and academics have seized on the need for peacebuilding negotiation strategies in international negotiation to be as complex and adaptive as the societies within which they work.
As a result, there are loud calls for "whole of government" or "whole of community" approaches that cross traditional sectoral boundaries.  The problem is that these approaches are very difficult to implement.
In a talk back in 2012, Rob Ricigliano presented an overview of his new book, Making Peace Last (April 2012), which articulates the theory and practice of systemic peacebuilding; a holistic approach to dealing with complex adaptive social systems in negotiations.  The author has worked with USAID, the US Department of State, and the US Department of Defense to integrate systems thinking tools into their assessment and planning frameworks.
A CASE STUDY:
Veritas and Pulchra are neighboring countries with a long history of friendly, mutually beneficial relations. Recently, however, relations between the two countries have been strained due to a catastrophic industrial accident wherein a concentrated form of the Class M chemical pesticide DS-30 leaked from a chemical plant in Veritas near the Pulchran border, adversely affecting a large tract of Pulchran farmland. To comply with Pulchran regulations on Class M pesticides, a significant amount of Pulchran wheat had to be destroyed because of excessive exposure to DS-30.
Compensation and emergency relief to affected Pulchran farmers are central issues in that country's upcoming elections, but the Pulchran National Legislature is unwilling to appropriate any money without first getting some commitment from Veritas to pay for the damage it caused. There are a wide range of standards that the two countries could use to determine the amount and nature of compensation. Because of significant political concerns, negotiators from each country's Foreign Ministry have been asked to meet and settle this case quickly.
MECHANICS:
The case is designed for one negotiator on each side, though pairing participants and running the case as a 2-on-2 negotiation can also work. The participants should take approximately 30 minutes to negotiate. A review and discussion period requires 45-60 minutes.
MAJOR LESSONS:
This simulation provides a good vehicle for illustrating various negotiation strategies. There are a fair number of interests with varying intensities, some shared, some dovetailing, and others conflicting. Options for joint gain are plentiful.
The range of possible agreements is wide; by comparing agreements the usefulness of generating options should emerge.
It almost always pays to maintain cordial working relations with adversaries, even in the face of substantial disagreement. Energy should be focused on solving the problem, not "beating" the other side.
About Robert Ricigliano
Robert Ricigliano is the Director of the Institute of World Affairs, Center for International Education at the University of Wisconsin, Milwaukee, where he teaches International Mediation and Peacebuilding through the Department of Communication, and he is the Coordinator of the Certificate in Peace Studies and Conflict Resolution. He is also a former Executive Director of the Conflict Management Group and served as an Associate Director of the Harvard Negotiation Project at Harvard Law School.
Mr. Ricigliano has worked to incorporate systems thinking tools into peacebuilding, including projects with the US Agency for International Development and the Department of Defense. He has worked with officials all over the world to help resolve a conflict in international negotiation. He has worked with political parties in the new Iraqi Parliament and has been involved in peacebuilding interventions in the Democratic Republic of Congo, Afghanistan, Cambodia, Russia, Georgia, Colombia, South Africa, and elsewhere.
This article was drawn from an event held by the Program on Negotiation, "Systems Thinking and Peacebuilding: A New Frontier?" with Robert Ricigliano, Director of the Institute of World Affairs, Center for International Education at the University of Wisconsin, Milwaukee on Thursday, April 5, 2012.
What stories do you have to share about international negotiation? Leave a comment.
See also: Cross-Cultural Negotiation Role-Play: DS-30 and  Negotiation and Nonviolent Action – Interacting in a World of Conflict – Negotiation strategies for engaging in conflict resolution using nonviolent action have helped resolve or manage intractable disputes. Experts and practitioners of alternative dispute resolution (ADR), mediation, and conflict management professionals underestimate of negotiation or non-violent action as a means to resolve disputes. This article discusses the intersection of negotiation research and nonviolent action. It examines each field's commitment to constructive engagement with conflict resolution scenarios.  

Related International Negotiation Article: International Negotiations and Agenda Setting
Originally published on March 20, 2012.
Related Posts