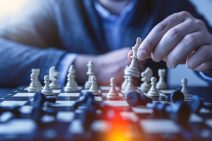 Business negotiators generally understand that to get what they want from another party or parties, they will have to give something away. But what concessions should you offer in the deal-making process, and what form should they take? New research on concession making in negotiation offers tips to add to your repertoire of business skills.
Finding Wise Tradeoffs
Ideally in deal-making, you should aim to make concessions on an issue that matters (or issues that matter) less to you in exchange for concessions from the other party on an issue (or issues) that you highly value. To take one business negotiation example, when negotiating with a service provider, you might be willing to offer half the payment upfront in return for rapid delivery of the specified work. When you make such trades—a process known as logrolling—you enhance your business skills by creating opportunities for all parties to get more of what they want.
It's also important to ensure that your counterpart is aware that you're making a concession, write Deepak Malhotra and Max H. Bazerman in their book Negotiation Genius: How to Overcome Obstacles and Achieve Brilliant Results at the Bargaining Table and Beyond (Bantam, 2007). Your counterpart has a motivation to overlook your concessions so that they won't feel obligated to reciprocate with concessions of their own. "For this reason, it is critical to label your concessions" and to "make it clear that your action is costly to you," write Malhotra and Bazerman. Labeling your concession is likely to trigger the norm of reciprocity and spur the other side to respond with a concession of their own.
What if they don't? Avoid the urge to retract your offer or to make further concessions in the hope of prompting a response, caution Malhotra and Bazerman. Instead, try waiting out the silence, reminding yourself that it's their turn to speak. They probably will.
Follow a Useful Pattern
Typically, both parties will need to make more than one concession before coming to agreement. The pattern of these concessions matters, according to a 2021 study in the journal Organizational Behavior and Human Decision Processes by Kian Siong Tey of INSEAD, Singapore, and his colleagues.
Negotiators often intuit that the size of their concessions should diminish as the negotiation progresses—that is, they should start with a larger concession, followed by concessions that gradually diminish in size. As the theory goes, a series of diminishing concessions is likely to signal that you are getting closer to your reservation point (or reservation price), or the least you would accept before declaring an impasse. When the other party notices that concessions are growing smaller, they may lower their expectations and demands, resulting in a better deal for you.
Somewhat surprisingly, this assumption had not previously been tested in negotiation research—until now. In a series of studies, Tey and his team examined whether negotiators who receive decreasing concessions from their counterpart make less ambitious counteroffers than those who receive a series of concessions of similar size or one large concession.
Indeed, this is what they found. In one experiment, for instance, participants in an online negotiation simulation were asked to negotiate the rent of a one-bedroom apartment with someone playing the role of landlord—actually, a series of preprogrammed responses. When the "landlord" made a series of concessions of decreasing size ($1,500, $1,300, $1,225, $1,200), the study participants made higher (less ambitious) counteroffers than when the landlord made a series of concessions of the same size ($1,500, $1,400, $1,300, $1,200) or only one large concession ($1,500 followed by $1,200).
Interestingly, the study participants in this experiment did not make decreasing concessions themselves, suggesting that they were unaware of the potential financial benefits of doing so.
In other experiments, the researchers found that MBA students and executive MBA students, who presumably had at least some negotiation experience, also tended to make greater concessions in response to decreasing concessions. The researchers found in another experiment that negotiators who kept their target price in mind were able to avoid making undue concessions on price.
Boost Your Business Skills with Concessions
The results of Tey and colleagues' study have the following implications for negotiators looking to boost their business skills:
Make concessions strategically. Offering decreasing concessions is likely to get you more favorable counteroffers by signaling that you are nearing your bottom line. Thus, decreasing concessions can be used strategically in price negotiations and potentially in multi-issue negotiations as well. For example, when presenting a package offer that encompasses several issues (such as price, delivery date, and scope), you might plan your concessions in advance to ensure that they decrease in size across all the issues at stake.
Play good defense. When seeking to negotiate business contracts, even experienced negotiators appear to be susceptible to the effects of decreasing concessions, note Tey and his team. This finding underscores the importance of entering business negotiations with a clear target in mind and continuing to focus on it throughout the negotiation. Just because a counterpart's concessions are decreasing doesn't mean you have to follow suit.
What other business skills related to concession making have you found useful?
Related Posts