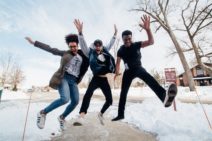 If a pet project of yours is facing an up-or-down vote, negotiation can be a powerful tool to help sway the outcome in your favor. A great example of a successful negotiation was New York Governor Andrew M. Cuomo's campaign to legalize same-sex marriage in the state, as described by Michael Barbaro in the New York Times.
Setting the stage back in 2010 during his campaign for governor, Cuomo, a Democrat, pledged to fight hard for same-sex marriage in New York if elected. He knew it would be an uphill battle: The New York Senate had rejected a same-sex marriage bill in 2009. And when Republicans gained a one-seat majority in the Senate in 2010, the odds became even steeper.
 Negotiation Examples Involving Coalitions
Some of the Republican senators opposed gay marriage on moral grounds; many feared to lose the support of conservative voters.
After taking office, Cuomo met with gay-rights advocates and criticized their previous efforts on the issue as disorganized. In exchange for his personal involvement, Cuomo convinced the advocates to agree to a coordinated strategy.
Five advocacy groups merged into one—New Yorkers United for Marriage. A trusted consultant of Cuomo's took control of the $3 million campaign.
Choosing Partners Wisely
In the early summer, two of Cuomo's closest advisers convened a secret meeting with a group of deep-pocketed Republican campaign donors, according to Barbaro.
The advisers asked the donors to help lobby Republican senators—and to promise to help insulate them from a conservative backlash in their next elections.
A few days later, the donors got on board, giving more than $1 million to New Yorkers United for Marriage. At least one of them was motivated to act in support of a gay family member.
Others saw the issue in terms of personal freedom and their libertarian worldview.
Unlikely Allies
After a pivotal Democrat who had opposed the bill joined the cause, same-sex-marriage supporters focused on lining up the four Republican votes needed for passage. Reaching out to wavering Republican lawmakers, again and again, Cuomo vowed to campaign for them, insisting he was more of an asset than their support for gay marriage would be a liability.
When the group of Republican donors promised Senator James S. Alesi of suburban Rochester backing in return for a yes vote, at first he refused. The campaign honed in on him, deluging him with postcards from constituents and scoring an endorsement for the legislation from Xerox, a major employer in his district.
Alesi became the first Republican senator to support the bill.
A Weak Opposition
As the end of the legislative session drew near, traditional opponents of same-sex marriage seemed reluctant to engage on the matter, according to Barbaro.
The Catholic Church, expected to protest the bill, remained largely silent.
Meanwhile, the Senate's Republican caucus spent long hours debating whether to allow a vote on the bill.
Cuomo invited the Republicans to his home and delivered an impassioned speech in support of gays' right to wed. Ultimately, Senate Majority Leader Dean G. Skelos announced that members would be free to vote according to their conscience.
Republican senators negotiated changes to the bill to protect religious institutions opposed to same-sex weddings. Three other Republicans, worn down by intense and targeted tactics, decided to support the bill. On June 24, 2011, the Senate voted to legalize same-sex marriage in the state of New York.
What You Need to Know When Using Negotiation as a Persuasion Tool:
Draw a party map and identify "patterns of deference."
Cuomo's team correctly guessed that Republican senators would defer to influential members of their own party—deep-pocketed donors.
Divide and conquer.
Rather than viewing the Republican opposition as a monolith, Cuomo's team identified wavering members and focused on them with laser-like precision.
Appeal on multiple fronts.
The Democrats used numerous persuasion tools to wear down the four Republicans: the promise of campaign support, appeals to their conscience, and concessions on religious exemptions.
What are some negotiation examples that have helped you to create coalitions at the bargaining table? Share your negotiation examples in the comments below.
Adapted from "Negotiating for a Winning Coalition," first published in the September 2011 issue of the Negotiation newsletter.
Related Posts