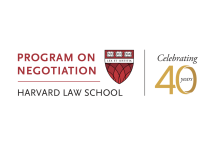 Celebrate our past, present, and future on Saturday, December 9th at two very special events for the Program on Negotiation 40th Anniversary
What began in 1983 as a small research project is now recognized as the world's premier hub for negotiation training, pedagogy and scholarship. And that's something to celebrate. Please join us in Cambridge to commemorate 40 years of negotiation education, collaboration, and innovation.
Please see the event details below:
PON 40th Anniversary Symposium
When: Saturday, December 9th from 8:00 AM – 4:00 PM
Where: Harvard Science and Engineering Complex, 150 Western Avenue, Boston, MA 02134
What: Gather with colleagues from around the globe to discuss the latest developments and innovation in the fields of negotiation and mediation. Including, a keynote presentation by PON co-founder William Ury, as well as sessions and panel discussions on a wide range of topics in negotiation pedagogy, scholarship, and practice.
PON 40th Anniversary Gala
When: Saturday, December 9th at 7:00 PM
Where: Harvard Art Museums Calderwood Courtyard, 32 Quincy Street, Cambridge, MA, 02138
What: Celebrate the past, present, and future of PON at this festive evening event toasting our milestone anniversary.
Attire: Business/cocktail.
Combined registration for the symposium and the gala costs $299.
Please reach out to negotiation@law.harvard.edu with any questions.
______________________
Take your training to the next level with the TNRC
The Teaching Negotiation Resource Center offers a wide range of effective teaching materials, including
TNRC negotiation exercises and teaching materials are designed for educational purposes. They are used in college classroom settings or corporate training settings; used by mediators and facilitators seeking to introduce their clients to a process or issue; and used by individuals who want to enhance their negotiation skills and knowledge.
Negotiation exercises and role-play simulations introduce participants to new negotiation and dispute resolution tools, techniques and strategies. Our videos, books, case studies, and periodicals are also a helpful way of introducing students to key concepts while addressing the theory and practice of negotiation.
Check out all that the TNRC has in store >>
Related Posts