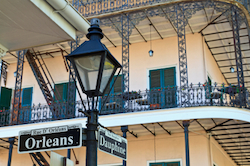 On May 14, 2012 Susan Hutson, the independent police monitor for the city of New Orleans, brought together community stakeholders and police officials to help formulate a program that would allow police officers and citizens to mediate minor disagreements, the New Orleans Times-Picayune reported.
Aided by a professional mediator, citizens and officers would sit face to face with the goal of resolving citizen complaints of police professionalism and courtesy violations, according to Ursula Price, spokeswoman for Hutson's office. Hutson hoped to launch the fledgling program, which was not yet funded, in 2014. Committee members, including representatives from various community and criminal justice groups, were charged with planning and implementing the program.
Police Superintendent Ronal Serpas praised mediation's ability to cut through miscommunication and misunderstandings between cops and the community. Ray Burkart, III, an attorney and spokesman for the Fraternal Order of Police, offered qualified support for mediation but questioned how potentially unfounded citizen complaints against officers would be verified through the program.
Trust between New Orleans residents and their police department was infamously shattered during and after Hurricane Katrina in 2005, when many officers fled the area and others followed orders to shoot suspected criminals. In August 2011, five current and former New Orleans police officers were found guilty in federal court of shooting six civilians, two of whom died, and attempting to cover up the crimes. The planned mediation program is mandated under an ordinance that established an independent, civilian police oversight agency in August 2009 with the goal of rebuilding trust and cooperation between citizens and police.
Other communities have established similar mediation programs. The Seattle Police Department (SPD), for example, gives citizens and officers the option of meeting to discuss and resolve citizen complaints with the help of a professional mediator. According to the SPD's Office of Professional Accountability, the mediation program not only saves taxpayer dollars by keeping disputes out of courts, but it often results in improved relations between officers and community members. Such programs illustrate the value of mediation in resolving disputes at a low cost with the potential for a more satisfying and peaceful conclusion for all parties involved.
To be a truly responsible negotiator, you must ensure that your words translate into actions.
Follow through on your commitments at the table with your partner, your personnel, and their union representatives by closely monitoring behavior at the implementation stage.
After all, circumstances may change, and further reviews and adjustments might be needed. Your social responsibility as a negotiator requires you to be accountable to all stakeholders, to reach justifiable and innovative solutions through joint problem solving, and to enhance ownership and implementation of the deal by empowering and engaging everyone involved.
Originally published in 2012. 
Related Posts