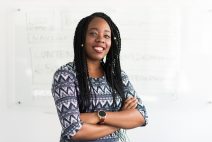 Women remain vastly underrepresented in organizational leadership positions in the United States and beyond. Leadership homogeneity can lead to gender-biased decisions that harm not only women employees but also organizations as a whole—including in the context of employment negotiations. In 2018, top track and field athletes revealed how their corporate sponsors penalized them for becoming pregnant. In the process, they revealed the need to improve representation of women in leadership roles while highlighting why negotiation is important in leadership.
A Pregnancy Penalty
In many sports, including track and field, athletes derive the bulk of their income from sponsorship deals with apparel companies such as Nike and Asics, according to a 2019 New York Times article. By signing five- or six-figure deals with a single company, track-and-field athletes support themselves and their families while pursuing excellence in their sport.
But since such sponsorship deals treat professional athletes like independent contractors rather than salaried employees, the deals tend to lack the rights of typical employment contracts. Sponsors often grant athletes paid time off when they are injured but, until recently, rarely gave female athletes paid pregnancy and maternity leave, the Times reports.
When Olympian Kara Goucher became pregnant in 2010, her sponsor, Nike, told her she wouldn't be paid until she started racing again. To support her family, Goucher felt she needed to train for and run a half-marathon three months after giving birth. When her son fell gravely ill, Goucher decided she needed to keep training rather than being with him in the hospital.
A 2019 Nike contract shared with the Times gave the company the ability to reduce an athlete's pay "for any reason" if they didn't meet a specific performance threshold, with no exceptions for childbirth, pregnancy, or maternity. Notably, attesting to the lack of women in leadership roles in U.S. corporations, all four Nike executives who negotiated track-and-field contracts at the time were men, the Times reports. Athletic companies typically require athletes to sign confidentiality agreements to prevent such contract terms from being exposed.
"Simple . . . We'll Stop Paying You"
"The sports industry allows for men to have a full career, and when women decide to have a baby, it pushes women out at their prime," Olympian and national champion runner Alysia Montaño said in a 2019 video produced by the Times. Montaño said that when she told her sponsor, Nike, that she planned to have a baby, she was told, "Simple, we'll just stop your contract and stop paying you."
When she was pregnant, Montaño switched sponsors, from Nike to Asics, to regain an income. But when she was recovering from pregnancy, Asics also threatened to stop paying her. Desperate to meet her sponsors' performance goals, Montaño ran and won races while pregnant and soon after giving birth. At the world championships, she pumped breast milk for 10 days to be shipped to her daughter in the States.
Compounding the stress on pregnant athletes and new mothers, the U.S. Olympic Committee (USOC) and USA Track & Field often revoked their insurance when they were unable to compete at the top levels. After Montaño raised awareness of the issue, several senators pressured the USOC to agree to ensure that pregnant athletes do not lose their health insurance.
In a 2019 Times editorial, Olympian runner Allyson Felix said that attempting to negotiate a new contract with sponsor Nike while pregnant in 2018 was "terrifying." Nike wanted to pay her 70% less than before, though she'd been performing at the top of her sport. Even after Felix's daughter was born two months prematurely via an emergency Cesarean section, Nike continued its hardball negotiation tactics, leaving talks at an impasse.
Women in Leadership: The Power of Diversity
After Goucher, Montaño, Felix, and others came forward with their stories, Nike and other athletic sponsors faced public criticism for financially penalizing women for choosing to have children even as the companies ran ads urging girls and women to accept no limits on what they can do. In response to the negative PR, Nike and several other athletic brands committed to protecting the pay of women who have children while under contract.
Felix was pleased that she and her peers affected change, but she switched sponsors, from Nike to Athleta, a women's apparel brand led by CEO Mary Beth Laughton. "I don't do things anymore just because I need to," Felix told New York Times Magazine shortly before the 2021 Olympics in Tokyo. "Now it's about: Will I have a seat at the table? Does it matter to you what I do beyond running fast?" As compared to her experiences sharing ideas with Nike, she finds that with Athleta, "when I bring something it's going to be listened to." She concludes, "I want to feel that I'm being taken seriously."
Male leaders are capable of recognizing, acknowledging, and responding to the unique concerns and experiences of women employees and representatives. But we all have difficulty seeing beyond our own perspective, and ample research reveals gender bias in negotiation. When organizations increase the representation of women in leadership roles, they will create more effective leadership by helping more employees feel listened to, understood, and valued. And when they feel valued, employees will be even more motivated to perform at their best.
What ideas do you have for improving the representation of women in leadership roles? 
Related Posts