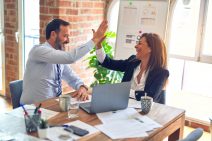 Looking for negotiation examples in business to learn from—both mistakes to avoid and best practices? Here's a list of 15 notable business negotiations from recent years.
In May 2014, then–Microsoft CEO Steve Ballmer's winning bid of $2 billion for the L.A Clippers NBA franchise was well timed: a few months later, the NBA negotiated enormously lucrative new TV contracts that padded league owners' wallets to the bursting point. Even better, Ballmer got to look like a hero by paying to get disgraced former Clippers owner Donald Sterling out of the sport. 
In 2013, super-agent Ari Emanuel's William Morris Endeavor talent agency and private equity backer Silver Lake won a bidding war for the sports and media talent agency IMG Worldwide in a $2.3 billion deal.
PricewaterhouseCoopers' purchase of accounting firm Booz & Company offers valuable insights for business negotiators seeking to fuse together two different but complementary teams.
On February 14, 2013, the news broke that Berkshire Hathaway, the conglomerate run by Warren Buffett, was planning to purchase H.J. Heinz—and its iconic Heinz ketchup—for $23 billion. Joining Berkshire Hathaway in the acquisition was 3G Capital Management, a Brazilian-backed investment firm with a majority stake in Burger King. 
Office Depot's $976 million, all-stock acquisition of OfficeMax in 2013 was widely praised as an important step toward consolidating the office-supply industry. But overlooked in the discussion was the potential impact of Office Depot and OfficeMax's merger on rival Staples.
In 2013, Yahoo announced it was purchasing blogging service Tumblr for about $1.1 billion in cash. The deal was an attempt to put a fresh face on the aging Internet company and help it find a profitable new revenue source on mobile devices.
On February 5, 2013, Dell founder and then-CEO Michael Dell and private equity firm Silver Lake launched one of that year's most famous negotiation examples, making an offer of $13.65 per share to take Dell private. 
In January 2016, health-care company Abbott Laboratories announced it was buying diagnostic-device provider Alere for $56 per share, or about $5.8 billion. The two parties hailed the deal as a breakthrough at the time. But within months, Abbott began trying to bow out of the agreement. The dispute highlights the need to carefully examine the cons as well as the pros before agreeing to a deal in business negotiations. 
Despite apparent synergies between French automaker Renault and Italian-American automaker Fiat Chrysler, their 2019 merger negotiations flamed out, in part due to the parties' failure to adequately account for the interests and concerns of others with a stake in the deal.
When competing with multiple parties to secure a coveted resource, it can be hard to stand out from the pack. Amazon faced that challenge in its $13.4 billion acquisition of upscale grocer Whole Foods in 2017. The online retailer successfully shut down its competition by making exclusivity a condition of its negotiation with Whole Foods.
5. Elon Musk's Twitter debacle 
After buying Twitter, tech leader Elon Musk made some disastrous postdeal moves—from laying off key personnel to crowdsourcing pivotal business decisions in Twitter polls—that shine a spotlight on a common mistake in business negotiations: focusing more on closing a deal than on what will happen when it does. 
"A huge mistake." "A shot in the dark." "An audacious move." Those are a few of the media's characterizations of wireless carrier AT&T's acquisition of media and entertainment firm Time Warner when it was announced on October 22, 2016, for $85.4 billion. The deal proved to be a debacle for reasons that might have been apparent early on.
The merger between U.S. Airways and American Airlines began on November 29, 2011—the day American filed for bankruptcy—with a phone call from U.S. Airways CEO Doug Parker to American head Tom Horton to discuss a possible merger. 
As a result of the Covid-19 pandemic in 2020, many business negotiations in progress became inadvisable or impossible to carry out. Corporate buyout firm Sycamore tried to renege on its agreement to buy struggling lingerie brand Victoria's Secret, which closed shops and implemented drastic cost-cutting measures to stay afloat. The parties ultimately agreed to abandon the acquisition. 
After Merck failed to develop an effective Covid-19 vaccine in early 2021, U.S. officials convinced the company to help competitor Johnson & Johnson bring its vaccine to the public. The story illustrates how organizational leadership can inspire new forms of collaboration.
Did we miss any top business negotiations? Share them with us in the comments.
Related Posts