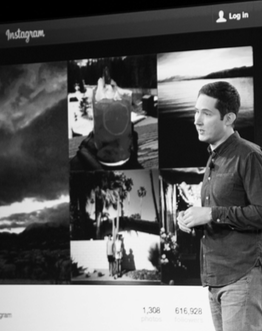 While a student at Stanford University in the mid-2000s, Kevin Systrom met Facebook founder and CEO Mark Zuckerberg at gatherings on campus. Though Systrom declined Zuckerberg's proposal that he drop out of school and take a job with Facebook, the two men kept in touch by phone in the years following. After Systrom launched photo-sharing app Instagram in October 2010, Zuckerberg had him over for dinner at his Palo Alto, California, home a few times to discuss "philosophy," according to Vanity Fair. Zuckerberg wanted to keep an eye on the potential competitor, and, at some point, he says, "it occurred to me we could be one company."
In April 2012, after Systrom turned down a $500 million offer from Twitter, Zuckerberg invited Systrom over to his home for a long conversation about how Facebook could help take tiny Instagram, which then had only 13 employees, to the next level.
"This never had the feeling of negotiation, because we kind of wanted to work together," Zuckerberg told Vanity Fair. The discussions quickly led to a $1 billion offer from Facebook and a promise from Zuckerberg to allow Instagram to maintain its independence.
Systrom met with his business partner, Mike Krieger, to review the offer. "I really like Mark, and I really like his company," Systrom told Krieger. "And I really like what Facebook is trying to achieve." The pair decided to sell. The entire negotiation had lasted three days.
Forming relationships with the leaders of companies he might want to target is a pattern for Zuckerberg. In 2012, the Facebook chief cultivated a friendship with WhatsApp founder Jan Koum over the course of hikes and dinners. Like Systrom, Koum overcame his initial skepticism about a Facebook acquisition after finding that he and Zuckerberg shared similar views on a host of technology- and business-related issues. In February 2014, Koum agreed to sell his company to Facebook for a staggering $19 billion.
It may not be difficult to form trusting relationships in negotiations where one party is offering the other a huge pile of cash. But Zuckerberg's strategy of patient relationship building still serves as a model worth emulating for business negotiators.
Forging close bonds typically helps negotiators reach better deals, work together effectively over time, and manage conflict. As the anecdotes about Zuckerberg show, time and patience are critical to forming strong relationships. Here we present some of the challenges to relationship building in negotiation and offer advice to help you address them.
Overcome partisan perceptions
When meeting a new counterpart, we may consciously seek a lasting relationship with him or her, but an unconscious bias may get in the way: partisan perceptions, or the tendency to see our own side as more intelligent, skilled, reasonable, and moral than the other side. Our partisan perceptions can cause us to expect the worst from our counterparts, especially those we don't know well. They also can become self-fulfilling prophecies, leading us to act in ways that trigger and exacerbate the same behaviors we've condemned, write David A. Lax and James K. Sebenius in their book 3-D Negotiation: Powerful Tools to Change the Game in Your Most Important Deals (Harvard Business School Press, 2006). Obviously, that's not a recipe for a strong relationship.
How can you lay the groundwork for a deep-rooted bond? Consider this anecdote from 3-D Negotiation. Late on a Friday afternoon, a senior partner in a law firm called a talented young associate into his office. The partner asked the associate to represent the plaintiff in upcoming settlement negotiations and, if necessary, a possible trial.
The young lawyer worked all weekend to prepare a compelling plaintiff's brief. After reviewing the work on Monday morning, the partner praised the associate highly. Then he revealed that the firm would actually be representing the defendant in the case, not the plaintiff. "Now that you completely understand the other side's viewpoint," the senior lawyer told the associate, "we need you to prepare our side." With this "trick," the senior lawyer prepared his younger colleague to understand the other party and its interests, a critical step in overcoming partisan perceptions.
You might try adapting the senior lawyer's trick to your own negotiation preparation. That is, consider writing up (or having your team write up) a detailed "brief" for both (or all) sides in an upcoming negotiation. You may find that the brief prepared for your counterpart is underdeveloped and simplistic compared with the brief written for your own side. If so, go back to the drawing board until you feel you have explored the nuances of the other side's perspective as fully as possible. You might also enlist disinterested third parties to assist you in sorting out your counterpart's point of view.
Do ask, do tell
Doing deals and forming relationships are not mutually exclusive goals, writes Jeswald W. Salacuse in his book Negotiating Life: Secrets for Everyday Diplomacy and Deal Making (Palgrave Macmillan, 2013). Negotiators must be keenly aware that the way in which they negotiate will affect their relationship with their counterpart. For example, if you are looking to take time off from work, how you negotiate that leave will affect your relationship with your boss, for better or worse.
Notably, some people are more concerned about the relationship dimensions of negotiations than others. In a survey of negotiators in 12 different countries, Salacuse found that people were more or less evenly split between whether they viewed the primary goal of negotiating to be a contract or a relationship. However, cultural and career differences played a role: Negotiators from India were far more relationship-oriented than those from Spain, for example, and lawyers (perhaps not surprisingly) were more contract- focused than managers and marketers. Such differences hint at the importance of trying to assess the degree to which an individual counterpart is focused on building a strong relationship.
Some negotiators rarely take time to get to know their counterparts, whether due to impatience or a sense that they would be wasting the other party's time. That's usually a mistake, writes Salacuse in Negotiating Life. Relationship building— and effective negotiation—require the kind of mutual knowledge that can come only from asking questions and sharing information. That means taking time to explore not only the other party's interests and motives through questioning but also who she is as a person.
Years ago, during tense negotiations with the United States, Israeli Prime Minister Golda Meir expressed deep sympathy toward one of the U.S. negotiators, whose wife had recently died. Meir mentioned the pain she had felt upon the death of one of her family members. The brief conversation between the two negotiators established a relationship that dramatically improved the tenor of the negotiation, according to Salacuse. As this example illustrates, asking and telling sends an important message to the other side: You are interesting, important, and valued.
Confronting conflict
Relationships typically become all the more important after a business transaction has been completed. "Once the contract is signed, we put it in the drawer," executives have told Salacuse repeatedly. "After that, what matters most is the relationship between us and our partner, and we are negotiating that relationship all the time."
A significant aspect of negotiating ongoing relationships is negotiating conflict. Inevitably, problems arise in the life of a contract: Parties might realize that they neglected to stipulate a key term, leading to differing perceptions of what's fair, or one side may come to believe that the other is failing to live up to the agreement, for example.
As described in the cover story of this issue, negotiating dispute-prevention clauses in advance can go a long way toward helping you manage conflict productively when it arises. Learning how to discuss areas of conflict, rather than simply sweeping them under the rug, can be just as important. In their book Difficult Conversations: How to Discuss What Matters Most (Penguin, 2010), Douglas Stone, Bruce Patton, and Sheila Heen explain that every tough conversation is made up of three different conversations: the "What happened?" conversation, the "feelings" conversation, and the "identity" conversation.
Keep these three overlapping conversations in mind the next time you are working to get a relationship back on track:
1. The "What happened?" conversation.
When disagreements arise between parties in a business relationship, each side is likely to blame the other. But arguing about who's to blame prevents us from finding out what actually happened. So probe to learn what the other person's intention was, then share your own version of the story. Instead of choosing which story is "right," embrace them both.
2. The "feelings" conversation.
It's tempting to focus exclusively on solving a problem and ignore the underlying emotions. But when left unaddressed, negative emotions tend to deepen conflict by blocking our ability to listen. Acknowledging your range of complex feelings can promote mutual understanding.
3.The "identity" conversation.
Conflict can shake our sense of identity to the core, causing us to question our competence and worth. It may help to think about which personal hot buttons the conflict is pushing, such as a fear of rejection or a sense of inadequacy. Looking beyond black-and-white identities ("I'm such a pushover"), consider the nuances of your self-image, recognize that everyone makes mistakes, and acknowledge your contributions to the problem.
Related Posts