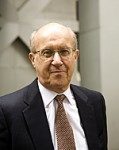 Jeswald Salacuse
Program on Negotiation Executive Committee
Henry J. Braker Professor of Commercial Law
Fletcher School, Tufts University
Professor Salacuse specializes in international negotiation, international business transactions, leadership, and law and development. Salacuse has served as the Chairman of the Institute of Transnational Arbitration (1992-94), Chairman of the Board of the Council for International Exchange of Scholars (1987-1991), President of the International Third World Legal Studies Association, (1986-1991), and the founding President of the Association of Professional Schools of International Affairs (APSIA), (1988-1989). He has been a consultant to major multinational companies, government agencies, international organizations, universities, foundations and foreign governments. He is a member of the Council on Foreign Relations and the American Law Institute, chairman of the board of the India Fund and the Asia Tigers Fund, lead director of the Legg Mason closed-end fund boards, and president and member of international arbitration tribunals. He is the author twelve books, including The Global Negotiator, Leading Leaders, and Seven Secrets for Negotiating with Government. Salacuse holds a J.D. from Harvard Law School, an A.B. from Hamilton College, and a diploma from the University of Paris.
Email:jeswald.salacuse@tufts.edu
Website: Jeswald Salacuse