The Program on Negotiation Graduate Research Fellowships are designed to encourage young scholars from the social sciences and professional disciplines to pursue theoretical, empirical, and/or applied research in negotiation and dispute resolution. Consistent with PON's goal of fostering the development of the next generation of scholars, this program provides support for one year of dissertation research and writing in negotiation and related topics in dispute resolution, as well as giving fellows an opportunity to immerse themselves in the diverse array of resources available at PON.
We are very excited to have three new fellows joining us this fall:

Brenda Dvoskin LL.M.
SJD Candidate, Harvard Law School
Brenda Dvoskin researches how social media companies engage third parties in drafting and updating their content moderation rules. As a PON fellow, she will continue working on her doctoral dissertation with a special focus on how academia and civil society participate in this rulemaking process.
Dvoskin was a Berkman Klein Center fellow (2019-2020) and a Teaching Fellow for Social Media and the Law at Harvard Law School. Before starting her doctoral research, she worked as a legal advisor for the Solicitor General of Argentina. She holds an LLM degree from HLS (Fulbright scholar) and a Bachelor of Laws from Universidad Torcuato Di Tella.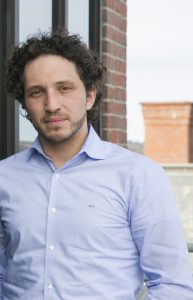 Benjamin Naimark-Rowse
Ph.D. Candidate and Topol Fellow in Nonviolent Resistance, The Fletcher School, Tufts University
Benjamin Naimark-Rowse is a Ph.D. candidate and the Topol Fellow in Nonviolent Resistance at The Fletcher School where he teaches, researches, and writes about social movements and resourcing of movements. He is currently a Visiting Scholar at SciencesPo. During the 2020-21 academic year, he will be a USIP-Minerva Peace and Security Scholar. He is a Term Member in the Council on Foreign Relations, a Truman National Security Fellow, and the Founding Director of the Seevak Human Rights and Social Justice Fellowship. He has served as a Program Officer with the Open Society Justice Initiative, an electoral observer with The Carter Center, a Multilateral Affairs Researcher with the Open Society Policy Center, and as a board member of the University of Chicago's Human Rights Program. From 2007-2010, he co-directed Darfurian Voices, the first public opinion survey of Darfurian refugees on issues of peace, justice, and reconciliation. Benjamin holds a M.P.A. from the Princeton School of Public and International Affairs and a B.A. with honors from the University of Chicago. His publications include, "Surviving Success: Nonviolent Rebellion in Sudan," "Nonviolent Resistance," and "The Founding Myth of the United States of America." His teaching includes From Gandhi to the Arab Spring: Theory and Practice of Nonviolent Resistance. His ongoing research projects include, "Liberating the 'Enemy' in South Africa's Anti-Apartheid Struggle" and "Dollars and Dissent: Foundation Support for Social Movement Building." He is married to Nadia Marzouki and they are the parents of twin girls.

Helen Winter, LL.M.
Ph.D. Candidate, European University Viadrina
Due to the Covid-19 pandemic, Helen Winter has deferred her fellowship until 2021-2022.
Helen Winter is a mediator and founder of the charitable organization R3SOLUTE based in Berlin. R3SOLUTE empowers refugees and locals to manage and prevent conflicts in their communities through dialogue work and peer mediation.
Winter holds a law degree with a focus on International Public Law from Heidelberg University, and an LL.M. with a specialization in Dispute Resolution from Pepperdine University's Straus Institute. She is pursuing a Ph.D. at European University Viadrina. Her dissertation examines how a peer-mediation training and clinic for refugees could be designed such that peer-mediation mechanisms can be established among refugee populations living in refugee shelters.
In her own mediation practice, Winter mostly deals with intercultural disputes. Previously, Winter has worked as a mediator with the L.A. Superior Court and as a consultant with On Deck Mediation, where her expertise included anti-discrimination and labor law. Additionally, she has worked with the United Nations Office of the Ombudsman and Mediation Services (UNOMS), where systemic issues within the United Nations is addressed.
Click here for additional information about our Graduate Research Fellowship program.
Related Posts