negotiation resources
The following items are tagged negotiation resources:
By following these steps, you can keep your edge while encouraging cooperative, rather than competitive, behavior in conflict management. … Read More
At the Program on Negotiation (PON) at Harvard Law School, we know that learning from your peers can be extremely valuable. That's why we'd like to ask you to share your experiences using the role-play simulations, videos, and other materials available through the Teaching Negotiation Resource Center (TNRC) at PON. Our goal is for you to … Read More
Summer Programs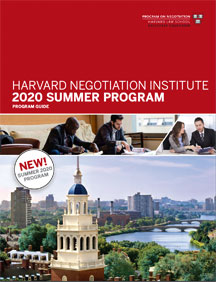 Contact us: Call 1-800-391-8629 (outside the US: +1-301-528-2676) between 9 a.m. and 5 p.m. ET any business day or email hni@law.harvard.edu
Teaching Negotiation Resource Center
Preparing for Negotiation
Understanding how to arrange the meeting space is a key aspect of preparing for negotiation. In this video, Professor Guhan Subramanian discusses a real world example of how seating arrangements can influence a negotiator's success. This discussion was held at the 3 day executive education workshop for senior executives at the Program on Negotiation at Harvard Law School.
Guhan Subramanian is the Professor of Law and Business at the Harvard Law School and Professor of Business Law at the Harvard Business School.