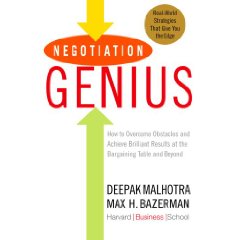 Negotiation Genius
by Deepak Malhotra
and Max Bazerman
Negotiation Genius is now available in bookstores and online! The book leverages the latest research on negotiation, along with the experience of thousands of executive students and clients.
Whether you've "seen it all" or are just starting out, Negotiation Genius will dramatically improve your negotiating skills and confidence. Drawing on decades of behavioral research plus the experience of thousands of business clients, the authors take the mystery out of preparing for and executing negotiations—whether they involve multimillion-dollar deals or improving your next salary offer.
What sets negotiation geniuses apart? They are the men and women who know how to:
•Identify negotiation opportunities where others see no room for discussion
•Discover the truth even when the other side wants to conceal it
•Negotiate successfully from a position of weakness
•Defuse threats, ultimatums, lies, and other hardball tactics
•Overcome resistance and "sell" proposals using proven influence tactics
•Negotiate ethically and create trusting relationships—along with great deals
•Recognize when the best move is to walk away
•And much, much more
This book gets "down and dirty." It gives you detailed strategies—including talking points—that work in the real world even when the other side is hostile, unethical, or more powerful. When you finish it, you will already have an action plan for your next negotiation. You will know what to do and why. You will also begin building your own reputation as a negotiation genius.
Deepak Malhotra is an associate professor at the Harvard Business School, where he teaches negotiation in the MBA program, the Advanced Management Program, and the Owner/President Management Program, in addition to providing negotiation consulting and training for businesses worldwide.
Max H. Bazerman is the Jesse Isidor Straus Professor of Business Administration at the Harvard Business School and the author of Negotiating Rationally and Judgment in Managerial Decision Making. He is also a member of the Program on Negotiation's Executive Committee.
Purchase online at the Clearinghouse.
Related Posts