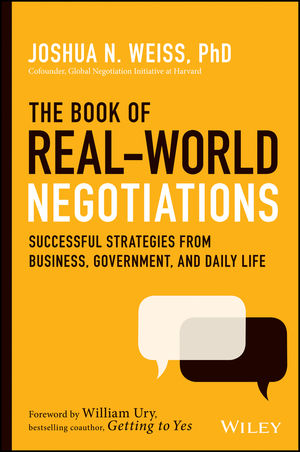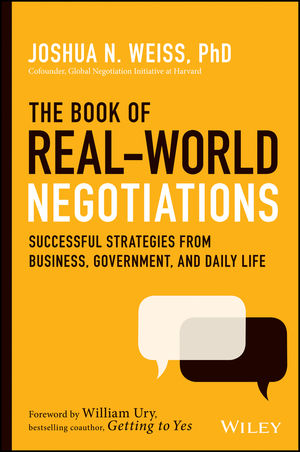 From a life-and-death hostage situation to the Philippines peace process, Joshua Weiss gives us an insider look at the world's most high-stakes deals to learn what works—and what doesn't—in negotiation.
Most negotiations fail because the negotiators involved lack the confidence, strategic knowledge, and the basic techniques required to reach the most optimal deals possible. The result? Poorly constructed agreements based on unnecessary compromise that often leave what's most valuable to the parties on the table.
In The Book of Real-World Negotiations: Successful Strategies from Business, Government and Daily Life, you'll learn why rushing to yes can be a mistake and how to overcome roadblocks when you encounter them.
From winning high-stakes business deals to saving everyday relationships, Weiss teaches you the practices and techniques used by the most successful negotiators. You'll learn common pitfalls to avoid, how to maintain your confidence in the face of power, and the secrets to negotiating across cultures.
Geared toward students, instructors, and frankly anyone who wants to best meet their goals at the negotiation table, this book will give you the knowledge, skills, and abilities to do so.  
ENDORSEMENTS
"The Book of Real-World Negotiations lets us eavesdrop on the.. mistakes, missteps, insights, and triumphs of seasoned negotiators from around the world. Their real-life stories are fascinating, funny, insightful, wise, and the lessons are as valuable as they are memorable. A must for any negotiator's bookshelf."

—Sheila Heen, Senior Lecturer on Law, Harvard Law School, Co-Author, Difficult Conversations
"Dr. Weiss combines the gripping stories of North America's top hostage negotiation instructors with the brilliant insight of negotiation experts from the public and private sector to create a much-needed addition to any negotiation library!"

—Police Lt. Scott Tillema, FBI trained hostage negotiator and Negotiation Instructor
"Joshua Weiss' The Book of Real-World Negotiations is an impressive contribution to the negotiation field. Weiss draws on his experience as an innovative teacher and sought-after adviser to share with us compelling stories of successful outcomes in the face of daunting obstacles. His mini-cases range from complex business deals to life-and-death situations. (One involves a police officer who persuaded a distraught man not to hang himself.) From each memorable tale, Weiss extracts broad, practical lessons that will enable readers to enhance their negotiation skills in their work, their communities, and in their personal lives, as well. I recommend it enthusiastically!"

—Michael Wheeler, chaired Professor (retired), Harvard Business School, author, The Art of Negotiation
ABOUT THE AUTHOR
Joshua N. Weiss, Ph.D. is the co-founder of the Global Negotiation Initiative at Harvard University and a senior fellow at the Harvard Negotiation Project. He is also the director of the Master's Degree in Leadership and Negotiation at Bay Path University.
Related Posts