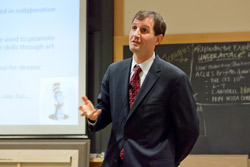 Daniel L. Shapiro, an assistant professor of psychology, invited a special guest lecturer, actor Richard Olivier (Sir Laurence Olivier's son), to give a talk to his Harvard negotiation and conflict management class about William Shakespeare's play, "Henry V." Olivier and Shapiro showed how the play offers powerful examples on why being an inspired leader helps in negotiation. The Harvard Gazette reported, "Shapiro says that this sort of inspirational leader – someone who knows him or herself, someone driven by the common good, rather than ego – is best able to engage in successful negotiation and conflict management."
To read the full article.
Professor Shapiro is a faculty affiliate with the Program on Negotiation. He will be leading a one-day author session on December 8, 2011, based on his book, Beyond Reason: Using Emotions as You Negotiate.  For information on attending Professor Shapiro's course, or our three-day Program on Negotiation for Senior Executives, please visit our website.
Related Posts