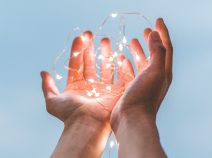 Challenged by pandemic-era uncertainty, mounting political divides, and other obstacles, negotiators had difficulty coming together in 2021. But our list of 10 Notable Negotiations of 2021 includes a few bargaining highs amid the many lows.
10. That's entertainment? Movie and TV crews have long faced hazardous working conditions, grueling schedules, and tight budgets—challenges exacerbated by the pandemic. These and other issues were at the center of labor negotiations between Hollywood film studios and the International Alliance of Theatrical Stage Employees, the union for film crew members in the United States and Canada. In October, after months of hard bargaining and impasse, the two sides hurriedly cobbled together a deal to avoid a strike.
9. Workers demand more. Labor shortages in many parts of the globe had workers expecting and asking for more in 2021. To attract new workers, many employers are offering them salaries and benefits comparable to those of tenured employees—which has led these more established employees to ask for more in return. Employees of some large organizations are using the power they've gained during the labor shortage to try to unionize. Although the majority of workers at an Amazon warehouse in Alabama voted against unionizing in April, a Buffalo, N.Y.–area Starbucks became the only U.S. store in the coffee chain to form a union in December.

8. Rivals team up for vaccine production. After pharmaceutical company Merck failed to develop an effective Covid-19 vaccine in early 2021, U.S. officials asked the company to help competitor Johnson & Johnson (J&J) bring its vaccine to the public. Merck initially balked but agreed to take the plunge after the government offered more than $250 million toward the effort. Having transformed its facilities at lightning speed, Merck is now contributing 500,000 J&J doses daily to the global fight against Covid. Also in 2021, Swiss pharmaceutical firm Novartis and French drugmaker Sanofi jumped in to help Pfizer and BioNTech produce their highly effective Covid-19 vaccine. As these stories show, crisis negotiations can harness rivals' complementary capabilities.
7. The Biden administration puts the brakes on mergers and acquisitions. In the realm of M&A negotiation, the Biden administration undertook sweeping efforts to curb corporate consolidations and promote competition this year. In March 2020, during the Trump administration, insurance giants AON and Willis Towers Watson announced a $30 billion merger. In June 2021, the U.S. Department of Justice sued to block the deal, arguing that the combined companies would create an anticompetitive "behemoth" that would disadvantage customers. As the case dragged on, the insurers opted to call off the deal. In November, the Justice Department sued to block publisher Penguin Random House's planned $2.18 billion acquisition of Simon & Schuster, arguing that fewer publishers would lower advances for authors—a charge the companies refuted.
6. Juries weigh in on race-related shootings. Recent shootings of unarmed Black citizens in the United States and subsequent calls for justice played out in several high-profile jury trials in 2021. In April, a Minneapolis jury voted to convict former police officer Derek Chauvin of murdering George Floyd. In November, a jury in Kenosha, Wisc., acquitted Kyle Rittenhouse on all charges related to his shooting of three people, two fatally, during unrest following the police shooting of Jacob Blake. Also in November, a jury found three Georgia men guilty of the murder of Ahmaud Arbery. Although the deliberations and outcomes varied, the trials highlighted the heavy responsibility juries face in having to negotiate and decide the fate of their peers.
5. New fractures form in the U.S. Supreme Court. Since becoming Chief Justice of the Supreme Court in 2005, John Roberts has sought to negotiate consensus agreements, aiming to keep the court from appearing partisan on contentious issues such as abortion and gun control. That goal appears more difficult as the court shifted conservative with the recent appointments of Brett Kavanaugh and Amy Coney Barrett. At December oral arguments regarding a Mississippi abortion law, Roberts floated a compromise position but appeared to have no takers. The Court's behind-the-scenes negotiations are sure to culminate in memorable decisions in 2022.
4. In U.S. Congress, roadblocks ahead. With the U.S. Congress at least as divided and rancorous as much of the country, its efforts to pass legislation were painstaking and often unsuccessful. Lacking Republican support, Senate Democrats were repeatedly stymied by two of their members, Kyrsten Sinema and Joe Manchin. Still, the bodies negotiated enough votes for passage of the $1.9 trillion American Rescue Plan in March and a $1 trillion bipartisan infrastructure bill in November. And in December, Senate minority leader Mitch McConnell surprised Democrats by agreeing in negotiations with majority leader Chuck Schumer to remove Republican opposition to raise the debt ceiling.
3. As migration accelerates, negotiations fail. Migration swelled worldwide in 2021, exacerbated by the pandemic and climate change, but government negotiations to address the challenge have been half-hearted. In December, after the tragic deaths of at least 27 migrants in the English Channel, British prime minister Boris Johnson and French president Emmanuel Macron blamed each other rather than committing to jointly working together on the issue. The same month, the Biden administration pulled out of negotiations to make financial restitution to about 5,500 migrant families harmed by a Trump-era policy that separated parents and children at the U.S. border with Mexico.
2. The United States reengages globally. Upon being sworn in on January 20, U.S. president Joe Biden brought the United States back into the Paris climate agreement and the World Health Organization, and renewed the New START nuclear nonproliferation treaty with Russia. Though these steps marked a reengagement with the world after former president Donald Trump's retreat, longtime global negotiating partners at times felt shut out of the White House's decision making. The chaotic U.S. withdrawal from Afghanistan in August alarmed NATO allies, a security agreement with Australia and the United Kingdom ruffled feathers with France, and renewed nuclear negotiations with Iran quickly stalled.
1. Vaccine distribution failures continue. Negotiating Covid-19 vaccine purchases on behalf of the European Union, the European Commission spent precious time haggling with vaccine manufacturers for a good deal on price and other issues. The result was a relatively slow vaccine rollout relative to that of the United States, Great Britain, and Israel. More broadly, the failure of wealthy nations to jointly negotiate an orderly and comprehensive rollout of Covid-19 vaccines worldwide continued to resonate in 2021. A nationalist approach to vaccine dealmaking and distribution likely contributed to new Covid-19 variants springing up in places where vaccines have been in short supply.
What other notable negotiations of 2021 would you add to our list?
Related Posts