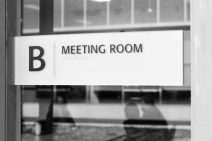 The tragic accidental shooting of cinematographer Halyna Hutchins by actor Alec Baldwin on the New Mexico set of the indie movie Rust in October 2021 shone a spotlight on the potentially hazardous working conditions, long hours, and tight budgets that movie crews have long faced. Complaints about these and other issues were at the center of 2021 negotiations between Hollywood film studios and the International Alliance of Theatrical Stage Employees (IATSE), the union for film crew members in the United States and Canada, including camera operators, makeup artists, prop makers, lighting technicians, editors, and hairstylists.
After months of hard bargaining, the two sides hurriedly cobbled together a deal to avoid a strike. Negotiators in other realms can learn from the parties' negotiation mistakes.
Dissatisfaction in the Ranks
In the early months of the Covid-19 pandemic, sets went dark as stakeholders negotiated new precautions to prevent the spread of the virus. The downtime gave many crew members "a new perspective about work-life balance," according to the New York Times. As hourly employees who work long days and nights without financial security, many crew members have long felt mistreated, especially in comparison to actors.
When they got back to work, many found working conditions to be even more difficult and hazardous than before, as studios and streaming services compressed timelines to make up for lost production time. The risk of contracting Covid added to workers' stress and dissatisfaction.
IATSE members were ready for a complete overhaul of their contract when negotiations began in May with the Alliance of Motion Picture and Television Producers (AMPTP). The new three-year contract would cover about 60,000 IATSE members, most of them based in the Los Angeles area.
Hard Bargaining—and Not Budging
The IATSE, led by president Matthew Loeb, issued a slate of demands, including higher minimum wages, increased health plan and pension funding, shorter work days, and longer rest and meal breaks. When presented with counteroffers from the AMPTP, the union's negotiators refused to budge "even an inch," according to Deadline. The studios were reportedly caught off guard by the union's hard-bargaining stance. The "unusual course of negotiations" stalled negotiations for months, reports Deadline.
In September, IATSE highlighted its BATNA, or best alternative to a negotiated agreement, by asking its full membership to vote to authorize a strike if talks didn't progress. With turnout at nearly 90%, more than 95% supported striking—a remarkably high number, given that many East Coast members operate under a different contract that will be renegotiated at a later date. It was clear that union members didn't want their leaders to fall short of their ambitious goals.
With the possibility of a strike looming, production companies recognized they would need to start making unilateral concessions. During the final days of the virtual negotiations, three industry leaders stepped in to mediate: lawyer Ken Ziffren, Disney General Entertainment Content chairman Peter Rice, and former Directors Guild of America executive national director Jay Roth. The trio alternated negotiating with each side in video calls.
The Final Outcome
Ultimately, the parties reached a deal, which was then endorsed by the IATSE's many local unions. As Variety reports, the AMPTP agreed to the following terms:
A minimum 10-hour break between shifts for all workers (up from 8 to 9 hours for some) and a 54-hour weekend rest period aimed at keeping Friday shifts from lasting until Saturday morning. Producers also will have to pay higher penalties for delaying lunch breaks.
An hourly pay bump for the lowest-paid IATSE workers (including art department and script coordinators), from about $15 to $17 per hour to $26 by the third year of the contract. Other workers were promised 3% annual wage increases, up from 2.5% and well short of the 5% demanded by the IATSE.
A promise to cover a $370 million funding gap in the pension and health plan. The studios did not meet their goal of increasing the minimum number of worked hours needed to qualify for health insurance and a pension.
IATSE touted the deal as a major victory, but many rank-and-file workers believed the union didn't make enough gains. They were particularly unhappy about a contract revision that would continue to allow 14-hour workdays.
The vote to ratify the deal was a nail-biter: Although the agreement was approved by a 56% majority under the union's Electoral College–style system, the popular vote was much closer, with 50.3% voting yes. The Los Angeles–area workers to whom the deal applied actually rejected the deal, with only 49.6% voting yes, according to the Times.
Where Hard Bargaining Falls Short
Refusing to engage in good-faith bargaining by exchanging counteroffers is one of many hard-bargaining tactics that rarely pays off. In this case, the parties apparently negotiated so ineffectively that neutral third parties needed to take over the negotiations.
The fact that the bulk of the negotiating happened in the final 7 to 10 days before a potential strike likely prevented the parties from being as productive as they could have been. A more effective negotiation strategy would have dedicated those wasted months to building trust and rapport, discussing priorities and concerns, and brainstorming possible package deals.
What ineffective hard-bargaining tactics have you experienced lately, and what have you learned from them?
Related Posts