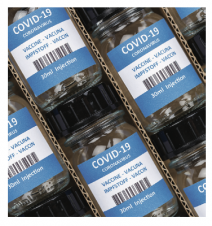 In crisis negotiations, we typically face a number of difficult decisions. Should we try to negotiate on our own or team up with others with shared goals? Should we take time to drive a hard bargain or try to wrap up talks as quickly as possible? How can we account for uncertainty and risk in our negotiations?
These questions and others have been front and center of government negotiations with vaccine manufacturers. Although luck has played a significant role in governments' success at rolling
out vaccines, the difficulty the European Union (EU) has had negotiating and receiving doses in a timely manner points to lessons we can apply to our own crisis negotiations, especially during the Covid-19 pandemic.
Off to a slow start
In May 2020, Germany, France, Italy, and the Netherlands teamed up to negotiate vaccine purchases from manufacturers. But the EU believed a more unified approach was needed. When the pandemic devastated Italy months earlier, France and Germany had clamped down on exports of personal protective equipment, behavior contrary to the EU's spirit of solidarity. A united approach to vaccine negotiation and rollout was expected to lessen tensions and, more importantly, offer Europeans better protection from the virus.
In June, the European Commission (EC), the Brussels-based administrative arm of the Union, launched negotiations to secure vaccines for the 450 million residents of its 27 member nations, the New York Times reports. Given that the United States and Britain had started negotiating vaccine deals months earlier, the EU was already well behind in the race to lock up vaccine doses.
Intent on wrapping up deals as quickly as possible amid the worsening pandemic, the United States, Great Britain, Israel, and other countries didn't spend much time pushing manufacturers hard on price and other issues. Israeli prime minister Benjamin Netanyahu said his country rolled out vaccines quickly because "we didn't quibble about the price of vaccines," according to the Times. By comparison, the EC negotiated hard on price and also insisted that manufacturers accept liability in the event their vaccines caused harm, writes Sylvie Kauffmann in the Times. The haggling ate up critical time. The EC's need to get input from member states further lengthened negotiations.
An upsetting surprise
In November, the EU closed a deal to purchase 200 million doses of Covid-19 vaccine from U.S. drug manufacturer Pfizer and German firm BioNTech, with an option to buy another 100 million doses. On December 21, the EU approved the vaccine, which had proven highly effective in clinical trials. The vaccine was shipped in five-dose vials to EU member states, which began administering it within days.
On January 8, the EU's drug agency ruled that because Pfizer's vaccine vials were overfilled, six doses could be extracted from each one to vaccinate more people. A week later, Pfizer announced it would be reducing vaccine deliveries to the EU until the end of the month, saying it needed to focus on overhauling production at a plant in Belgium.
The EC and EU nations were outraged. Pfizer argued that if six doses were obtained from every vial, it was technically meeting its obligations, according to the Wall Street Journal. It had agreed to provide a certain number of vaccine doses, not a certain number of vials.
The Italian government reportedly considered suing Pfizer. The German state of Hamburg said it hadn't been able to procure enough of the special syringes required to squeeze an extra dose out of the vials. German health minister Jens Spahn called Pfizer's announcement "annoying" but said nations had no legal recourse because of the EU ruling.
A second setback
The EU was lagging behind other wealthy nations in vaccinating its residents even as a new, more contagious coronavirus variant was causing cases to spike in several European countries. The Pfizer/ BioNTech delays were a setback, but EU nations were optimistic about the arrival of a vaccine from British-Swedish drugmaker AstraZeneca and the Uni- versity of Oxford. The EC had agreed to purchase up to 400 million doses of the vaccine, which was cheaper and easier to store than Pfizer's. To deepen its relationship with AstraZeneca, the EU agreed in October to pay the company $300 million to scale up its production.
EC and national officials began to suspect that AstraZeneca had diverted vaccine doses meant for the EU, manufactured in Belgium, to Britain. AstraZeneca denied the allegation, saying that it had produced Britain's supply within that nation.
But just as the EU was about to approve the vaccine, AstraZeneca revealed on January 22 that it was slashing its initial deliveries to the EU from 80 million to just 31 million doses, citing problems at a manufacturing facility in Belgium. Meanwhile, AstraZeneca was fully meeting its vaccine commitments to Great Britain, according to Politico. When EU and national officials angrily grilled AstraZeneca leaders about the shortfalls, they were met with "lack of clarity and insufficient explanations," according to a tweet by EU health commissioner Stella Kyriakides.
EC and national officials began to suspect that AstraZeneca had diverted vaccine doses meant for the EU, manufactured in Belgium, to Britain. AstraZeneca denied the allegation, saying that it had produced Britain's supply within that nation. Moreover, the company noted that it had signed its deal with Britain several months before its agreement with the EU. The EC claimed AstraZeneca had made specific delivery guarantees, but AstraZeneca CEO Pascal Soriot told Italian newspaper La Repubblica that his company had promised only to do its best.
"Trust has been severely shaken," an EC official told Politico.
In response to AstraZeneca's announcement, on January 25, the EC said it would require drug manufacturers to seek EU approval before shipping vaccines internationally, including across the Irish border into Britain. The move would delay shipments of the Pfizer vaccine from Belgium to Britain.
Britain, Ireland, and the World Health Organization were furious. In the recently concluded Brexit negotiations between the EU and Britain, keeping the border between Europe and Ireland open had been a key sticking point for Ireland and Northern Ireland. Now the EU appeared to be reneging on its Brexit commitments. Facing severe criticism, EC president Ursula von der Leyen backed down from the plan, calling it a mistake.
It's all relative
Residents of Germany, France, and other large EU nations watched with envy as vaccines rolled out relatively quickly and smoothly in Britain. By early February, only 3% of EU nationals had received at least one dose of a Covid-19 vaccine, as compared to 17% in Britain and 9% in the United States.
"Of course, the question arises: Why is the United States faster, why is Israel faster, why is the United Kingdom faster?" German chancellor Angela Merkel told public broadcaster ARD in early February. She didn't offer an answer.
But whether the EU negotiations have been a failure may depend on where you're standing. "Bigger, richer countries like Germany and France . . . saw their vaccine campaigns delayed by the more cumbersome joint effort, while smaller [EU] countries wound up with better supply terms than they were likely to have negotiated on their own," write Matina Stevis-Gridneff and Melissa Eddy in the Times.
Most small and developing nations have been shut out of vaccine negotiations with pharmaceutical companies entirely. As reported in our January issue, the nonprofit COVAX alliance of 190 nations is buying vaccines to distribute to developing countries for free or at low cost, but has purchased only a small fraction of the doses that will be needed.
A negotiating advantage
As reflected in the EU's setbacks, during disease outbreaks, vaccine makers commonly have the upper hand in sales negotiations with governments. In many cases, companies have demanded and received development grants and no-interest loans, flexible delivery schedules, patent protection, and immunity from liability, write Matt Apuzzo and Selam Gebrekidan in the Times. Many also explicitly prohibit wealthy countries from donating or selling vaccines to poor countries, in part due to liability concerns.
Although drugmakers often receive huge taxpayer investments—the U.S. government gave Moderna $1 billion in grants to develop its successful vaccine— they typically retain full ownership of their patents. This allows them to set prices and keep generic vaccines that could save many more lives off the market, according to the Times.
Pharmaceutical firms typically also insist on confidentiality regarding the details of their agreements—including the price paid per dose, the rollout schedule, and the amount paid up front. This gives them a further negotiating advantage, as governments remain in the dark about what their "competitors" are paying. Confidentiality agreements also make it difficult for governments to hold firms accountable for failing to meet commitments.
From lead actor to supporting role
During a crisis, traditional rivalries sometimes get upended. Amid the Covid-19 pandemic, drug manufacturers have shared knowledge and collaborated on vaccines. Pharmaceutical firms Novartis and Sanofi recently announced deals to pack and fill millions of doses of the Pfizer/BioNTech vaccine to help address slowdowns in the production process, according to the New York Times. Such partnerships are often driven by the desire to help, though potential profit can provide strong incentives.
Since Merck announced in January that it was abandoning its two Covid-19 vaccine candidates, which failed in clinical trials, the U.S. pharmaceutical giant has faced pressure to join the global vaccination effort. Over more than 100 years, Merck has pioneered some of the most successful vaccines, including for mumps, chicken pox, shingles, and Ebola. The company is developing two drugs to treat Covid-19, but the Biden administration reportedly has considered enlisting Merck's help in manufacturing Pfizer's and Johnson & Johnson's vaccines.
Supporting a rival in its success requires a shift in mindset but can burnish an organization's reputation as a team player and open up new opportunities down the road.
Preparing for crisis negotiations
There's often not much time to prepare for crisis negotiations, but we will typically benefit from pausing to think through several key choices.
Consider the costs and benefits of joining a coalition. The EU saw real value in negotiating with pharmaceutical companies as a coalition: enhanced buying power, a more efficient rollout of vaccines, reduced infighting, and the knowledge that its smaller member nations wouldn't be left behind. At the same time, the team approach likely slowed down talks. Negotiators often gain bargaining power by joining a coalition, but you should expect to face coordination challenges and delays.
Remember that haggling takes time. The EU likely achieved better deal terms in its negotiations with pharmaceutical companies than Britain, the United States, and Israel did. But the lengthier process moved the EU further back in the line for vaccine doses. In competitions for scarce resources, keep in mind that extensive haggling can backfire by delaying agreement.
Prepare for setbacks. Even in good times, negotiators tend to be overoptimistic that partners will meet their targets and fulfill their commitments. In the worst of times, our overoptimism is particularly unwarranted—and dangerous. It's always wise to envision worst-case scenarios and try to prepare for them. You might be able to lessen the risk of a busted contract by negotiating contingencies and by striking deals with multiple partners.
Factor in previous commitments. Suspecting that AstraZeneca was putting other partners first, the EC tried to prevent history from repeating itself by imposing export restrictions. In doing so, it made a mockery of its Brexit commitments and angered close trading partners. We always need to weigh our options in negotiation through the lens of our ongoing obligations and partnerships.
Related Posts