rehabilitation
The following items are tagged rehabilitation:
SeaWorld and the Humane Society partner on orca stewardship, showing that a joint gain is possible between counterparts. … Read More
In negotiation, lightbulb moments—the kind that seem to magically dissolve disputes and create stellar contracts—can be few and far between. We might be lucky to have one such flash of insight over the course of a complicated dealmaking process. Recently, Major League Baseball's (MLB's) New York Yankees were fortunate to experience a breakthrough that neatly … Read More
Negotiation and Leadership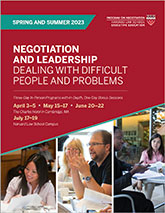 Negotiation Essentials Online
Teaching Negotiation Resource Center
Preparing for Negotiation
Understanding how to arrange the meeting space is a key aspect of preparing for negotiation. In this video, Professor Guhan Subramanian discusses a real world example of how seating arrangements can influence a negotiator's success. This discussion was held at the 3 day executive education workshop for senior executives at the Program on Negotiation at Harvard Law School.
Guhan Subramanian is the Professor of Law and Business at the Harvard Law School and Professor of Business Law at the Harvard Business School.