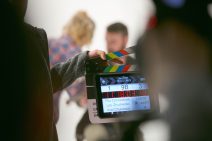 In December 2014, leaks of data hacked from Sony Pictures revealed that when negotiating salary for their roles in the film American Hustle, actresses Jennifer Lawrence and Amy Adams came away with significantly less than their male costars in the ensemble cast. Lawrence and Adams were paid 7% of the film's profits; Christian Bale, Bradley Cooper, and Jeremy Renner each were paid 9%.
Lawrence blamed herself for the disparity. "I failed as a negotiator because I gave up early," she wrote in the email newsletter Lenny Letter. "I didn't want to keep fighting over millions of dollars that, frankly . . . I don't need." She continued, "There was an element of wanting to be liked that influenced my decision to close the deal without a real fight. I didn't want to seem 'difficult' or 'spoiled.'"
Lawrence noted that her three male costars on American Hustle "all fought and succeeded in negotiating powerful deals for themselves" with no apparent concern about seeming "difficult" or "spoiled." "If anything, I'm sure they were commended for being fierce and tactical," Lawrence wrote. "I'm over trying to find the 'adorable' way to state my opinion and still be likable!" she concluded. 
Many women have felt a similar sense of frustration when negotiating salary: They want to negotiate aggressively but fear that they will be perceived as unlikable and penalized if they engage in hard bargaining.
Indeed, women who negotiate on their own behalf do risk a backlash effect, Harvard Kennedy School professor Hannah Riley Bowles, Carnegie Mellon University professor Linda Babcock, and Tulane University professor Lei Lai found in their research. In their studies, participants viewed women who negotiated for higher compensation as less nice than women who didn't ask for more and were less willing to work with the women who negotiated. Male negotiators in the study faced no such backlash for negotiating salary.
The backlash effect contributes to the persistent gender pay gap—the fact that women earned about 84% of what men earned in 2020. The extra dollars that many women pass up when negotiating can make a huge difference when compounded over their lifetimes. 
Compensation Negotiation Strategies
Negotiation experts have offered varied salary negotiation tactics to help reduce the gender pay gap. Bowles and Babcock, for example, have encouraged women to use relational accounts—explanations in a salary discussion that show concern for organizational relationships. For example, a woman might try renegotiating salary on the grounds that her supervisor noted that her salary was low for her position. To avoid being perceived as adversarial, women might also frame a salary negotiation as a joint problem-solving task.
In their book, Negotiating at Work: Turn Small Wins into Big Gains (Jossey-Bass, 2015), Simmons College School of Management professor emerita Deborah M. Kolb and writer Jessica L. Porter emphasize the importance of looking beyond negotiating salary in career negotiations. In a 2021 Vanity Fair interview, Jennifer Lawrence acknowledged that Leonardo DiCaprio, her costar in the film Don't Look Up, received a larger salary than she did ($30 million as compared to her $25 million). She attributed this to his larger earning power—"Look, Leo brings in bigger box office than I do"—and noted that she had successfully negotiated for her name to come first in the opening credits, an issue that was important to her.  
Teaming Up When Negotiating Salary
In 2015, Bradley Cooper, Lawrence's and Adams's costar in American Hustle, told Reuters he had been shocked to learn how relatively little they earned on the film. He also revealed that he had since begun teaming up with his female costars when negotiating salary. Through joint negotiations, he hoped to address the issue of unequal pay, Cooper said. 
Regardless of their gender, negotiators can often enhance their power by forming a coalition. In the early 1990s, for example, actor David Schwimmer was offered a higher salary than the other five leads of the TV show Friends for its first season. Schwimmer convinced his castmates that they should all start off at the same salary and negotiate collectively for the duration of the show. Schwimmer smartly foresaw that the actors could gain significant power by negotiating as a group. The six stuck to their agreement, and by the show's 10th and last season, they were each earning a record-breaking $1 million per episode.
Increasingly, employees are gaining negotiating leverage by sharing salary information. Fair-pay laws in some states prevent employers from punishing employees who share information about their salaries with colleagues and/or prohibit employers from asking employees about their past salary, a question that tends to perpetuate the gender pay gap. More companies are also setting formal salary ranges based on factors such as industry standards and benchmarking data from independent firms, reports Lauren Weber in the Wall Street Journal. Adding objectivity to the process improves gender equity and makes the organization more appealing to job seekers and employees. 
What other solutions to gender inequity have you encountered when negotiating salary?
Related Posts