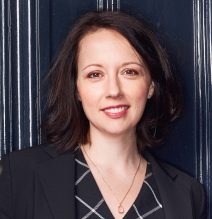 Nicole Bryant will be joining the Program on Negotiation on January 25, 2021 as our next Managing Director. She brings to the position a proven track record of successful management and growth of large-scale continuing education programming in an international context.
Bryant joins the Program on Negotiation from Tufts University, where she served as the Director of Continuing and Professional Education Programs at University College, in charge of non-matriculated students participating in Courses at Tufts, the Summer School, and custom programming. Prior to this role, she spent six years at the élite French University Sciences Po, most recently as the Director of Continuing Education, in charge of Executive Education and the Summer School and a member of the University's Executive Committee.
Bryant's early career took her back and forth across the Atlantic Ocean: from management consulting in Paris to the administration of the District of Columbia Public Schools in Washington, DC. She is a graduate of Columbia University in New York, Sciences Po, and the Ecole Normale Supérieure de Paris, where she was the first American to be admitted via the international selection exams. She lives in Cambridge, Massachusetts.
Related Posts