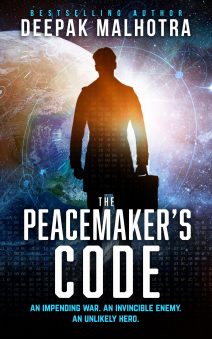 When the COVID-19 lockdown began in March 2020—coinciding with his upcoming sabbatical—Harvard Business School professor Deepak Malhotra, a member of the Program on Negotiation Executive Committee, saw the perfect opportunity to try something new. The author of three previous books, he turned his hand to fiction, penning "The Peacemaker's Code," a thrilling novel grounded in real-life negotiation insights. 
"The Peacemaker's Code" tells the story of Professor Kilmer, a renowned historian of war and diplomacy, who is collected from his home and whisked off to Washington, D.C. to help humanity during its most dire hour—an impending war against an alien race. Drawing on his deep knowledge of history, his ability to see what others might miss, and his skill at negotiation, Kilmer must navigate the seemingly impossible and become an unlikely hero in order to give mankind hope for tomorrow.  
Exploring fiction as a nonfiction author
While no stranger to academic writing, Malhotra said the switch to fiction was an exhilarating experience, which required an entirely different writing process. 
"Most nights I had no idea what was going to come out on paper, which is very different from writing nonfiction," Malhotra said. "If I'm writing a negotiation book, I know exactly what I want to write and by the time I get to writing it, it's just a matter of finding the right words. In a situation like this, I had some broad milestones about where the story was going, but the characters and the twists and turns just showed up. Going to write felt more like going to read a book that I couldn't put down."
While Malhotra said his primary goal with the book was to delight the reader—a departure from his typical academic writing, which prioritizes educational insights—the novel is also a deeply cerebral experience. In fact, to bring the story to life, Malhotra relied on his expertise in negotiation, and his own experiences as an adviser to governments and businesses.  
"The book's protagonist is a history professor who has a lot of knowledge about history, conflict, strategy, negotiation, and war," Malhotra said. "Woven throughout the book are real insights from history, negotiations I've been involved in, and even classes I've taught. These lessons make appearances in a variety of ways—from enriching the plot line and dialogue, to the strategic decisions that characters make, to the mysteries that must be solved." 
Fictional plot. Real insights.
While the story is fictional, the real-life insights woven throughout the text offer valuable lessons for negotiation experts at all levels. "For example, the book shows how it is sometimes important to stop trying to negotiate the deal, and instead shift your attention to negotiating the process. If you can change the process in a way that's advantageous to you, you might eventually unlock opportunities that would otherwise not be on the table."
Throughout the novel, Malhotra said, there is an emphasis on themes that are relevant to real-world negotiators, such as deeply understanding the motivations that drive others, and the importance of balancing the need to persevere with a need for strategic flexibility. There is also a focus on the mistakes even seasoned negotiators make.
"As a negotiator, you never want to copy and paste strategies and tactics simply because they were successful in the past," Malhotra said. "But you do want to leverage the principles you glean from experience and history, and marry those with the understanding you have of the situation you're in. The more deeply you understand both of those elements, the more likely you'll come up with the right strategy and the right tactics. This book highlights this in a really engaging and accessible way." 
While a second Professor Kilmer novel isn't out of the question, Malhotra is planning a return to nonfiction as his next project. But that doesn't mean that he'll leave behind the lessons he learned writing his first novel. 
"Based on this experience, I'm going to start my nonfiction books in a completely different way,'" Malhotra said. "A lot more willingness to take risks and think creatively, a lot more emphasis on delighting the reader, and a lot less pressure on trying to squeeze everything I want to say into the book. I think we can have a much greater impact even with our non-fiction writing if we offer the reader a more enjoyable journey." 
"The Peacemaker's Code" is now available in e-book and paperback on Amazon.com.
Related Posts