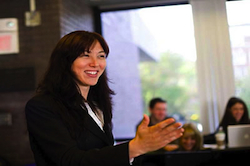 Program on Negotiation faculty member and Harvard Law School faculty member Gabriella Blum was appointed Rita E. Hauser Professor of Human Rights and Humanitarian Law on April 10, 2012. To commemorate the occasion, Blum delivered a lecture entitled "The Fog of Victory" in which she discussed the meaning of victory in modern warfare.
In her opening remarks, Dean Minow stated that it was the highest honor Harvard Law School could bestow upon its faculty is to be named to hold a Chair and called Gabriella Blum "…a pathbreaking scholar." The Rita E. Hauser Professor of Human Rights and Humanitarian Law chair is named for a visionary HLS alumna named Rita E. Hauser, who served as an adviser to presidents of the United States and Harvard University.
Rita E. Hauser, an international lawyer and former partner at the New York City law firm Stroock & Stroock & Lavan, and her husband, Gustave are both prominent philanthropists who have given generously to Harvard University, including funds to launch the Harvard Initiative for Learning and Teaching and build Hauser Hall on Harvard Law School's campus.
In 2011, Blum, in conjunction with Benjamin Wittes at the Brookings Institution, launched the Harvard Laws School-Brookings Project on Law and Security, a partnership, "devoted to the creation of high-impact, independent, policy-relevant work related to the many areas in which law constrains security options."
Blum is also the author of Islands of Agreement: Managing Enduring Armed Rivalries, which discusses the idea of victory in modern warfare. Regarding her most recent acclaimed work, Blum explains: "Without understanding what victory means today, we cannot even hope to approach a workable and meaningful doctrine for regulating war."
Calling war "the ultimate human drama," Blum discussed the impact of humanitarian law and human rights law on modern warfare, stressing that the traditional objectives of warfare, access to land, resources, trade routes and claiming territory, are made increasingly difficulty because of the, "increasing focus on the individual rather than the state as a major reformer of modern warfare." Explaining her theory about the changed dynamics of modern war, Blum stated, "The most a state can win for itself is security, the elimination of a threat from others."
By offering a systematic treatment of the concept of victory in modern warfare, Blum seeks to answer the questions of what does victory look like within this context, what is gained from it, and is there a moment or an ending that brings us back from war to peace.
Related Posts