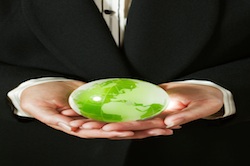 In January 2012, a New York Times exposé documented dangerous and harsh working conditions in Chinese factories that manufacture products for Apple. The American technology company stood accused of tolerating child labor, unsafe working conditions, and punishingly long shifts for thousands of workers at the factories of Chinese suppliers such as Foxconn. The article triggered a firestorm of criticism against Apple and a closer examination of how Western companies can ensure humane labor practices for their workers abroad.
In the April issue of the Negotiation Briefings newsletter, our guest "Negotiation Coach," Brandeis University Professor Alain Lempereur, suggests three steps business negotiators can take to behave responsibly when facing a decision to outsource work – both in terms of helping workers at home adapt to layoffs and establishing ethical working conditions for foreign workers. The following negotiation strategies will help you overcome disagreements that may arise within and outside your organization.
(For more information on alternative dispute resolution (ADR), the mediation process, and how the different types of mediation available to disputants can help settle disagreements and perhaps create value for you and your counterpart, please read "Deciding on Arbitration versus Mediation? 'Med-Arb' is an Effective Tool for Resolving  Disputes" and "Make the Most of Mediation in Negotiation and Dispute Resolution").
Lempereur writes:
1. Negotiate inside before meeting the other outside.
A decision to outsource production rarely comes out of the blue. Rather, it stems from the increased lack of competitiveness of a plant or category of personnel. As you see the light changing from green to yellow, don't wait until it turns red. Your ability to engage in an honest conversation with stakeholders at a particular plant, including any unions, can make a difference when there's still time to spare. A joint understanding of any economic and personnel challenges might lead to innovative solutions, such as enhanced training, that could revive an exhausted plant.
2. Address the social consequences of the deal before you close.
During a negotiation aimed at winning a deal, openly discuss with the other party your sense of extended responsibility to the stakeholders involved, both at home and overseas.
In the same way they discuss price and product quality, negotiators can address working conditions with their negotiating partners.
Together, you may be able to find ways of supporting employees at home and abroad. Those employed by a closing plant need training to take over other positions, help relocating to another facility, or outplacement services. You want to reduce the risks of "social dumping" (transferring operations to other locations where labor costs are low) and guarantee workers abroad labor conditions that ensure their dignity. This open approach to the issue of responsibility increases accountability on both sides of the table. (See also "Dealmaking – Relationship Rules for Dealmakers").
3. Continue negotiating implementation before your endeavor ends.
To be a truly responsible negotiator, you must ensure that your words translate into actions.
Follow through on your commitments at the table with your partner, your personnel, and their union representatives by closely monitoring behavior at the implementation stage.
After all, circumstances may change, and further reviews and adjustments might be needed. Your social responsibility as a negotiator requires you to be accountable to all stakeholders, to reach justifiable and innovative solutions through joint problem solving, and to enhance ownership and implementation of the deal by empowering and engaging everyone involved.
Adapted from "Be a More Responsible Negotiator" by Alain Lempereur, first published in the Negotiation newsletter, April 2012.
Originally published in 2012.
Related Posts