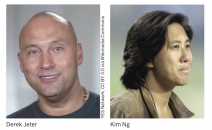 Immediately before the abbreviated Major League Baseball (MLB) draft, televised live on June 10, 2020, league commissioner Rob Manfred made a statement acknowledging the harm of systemic racism and inequality, and said that he and team owners would be "active participants in social change." As he spoke, each MLB team's general manager (GM) or head of baseball operations displayed a sign reading, "Black Lives Matter, United for Change" on their remote feeds.
A Minneapolis police officer had killed George Floyd just weeks before, and protests against police brutality and racial injustice filled the streets all summer. Like many organizations, MLB was promising to work harder to address its racial inequities and lack of diversity. It had a long way to go: The previous season, only 7.7% of MLB players were Black, a significant decline from a peak of 18.7% in 1981. And people of color were vastly underrepresented in team upper management.
Since 1999, MLB teams have been required to interview at least one minority candidate for every leadership vacancy. Yet in 2020, Chicago White Sox executive vice president (EVP) Ken Williams was the only African American head of baseball operations or general manager in the league.
The 2020 draft had been drastically curtailed as a result of the Covid-19 pandemic, but MLB hoped teams would fill executive roles with diverse talent during the off-season. Nine general managers and presidents of baseball operations needed to be hired. It felt like an opportunity, and Manfred's statement, a solemn commitment.
But for many people of color inside and outside MLB, the cumulative hiring decisions that followed were a betrayal. Many other organizations are having similar difficulty living up to their recent commitments to diversify. We explore what often goes wrong and how leaders can correct course.
If at first you do succeed…
In November, MLB executive Kim Ng accepted the position of Florida Marlins general manager, making her the first female full-time GM not only in MLB but in any major North American men's sports league. Ng, whose parents immigrated from China, is also the first East-Asian American GM in MLB history.
It was the culmination of decades of hard work and passion for the game. A New York Yankees fan and stickball player in her youth, Ng played softball in college and, after graduating in 1990, took an internship with the Chicago White Sox, where she quickly advanced, the New York Times reports.
By 1998, the Yankees had hired Ng as assistant general manager. As the team racked up three World Series victories in a row, she soaked up knowledge about scouting, analytics, and on-field play from top talent, including All-Star Derek Jeter. But Ng wasn't just a baseball nerd. "She had great people skills," Yankees amateur scouting director Damon Oppenheimer told the Times. "She was probably the smartest person in the room and never had to make everybody feel that way."
After Ng moved on to the Los Angeles Dodgers in 2002, General Manager Dan Evans urged her to plot a strategy for taking on a GM position. "You don't think I've thought about that already?" Ng replied with a grin, Evans told the Times.
Over the next 18 years, Ng interviewed for numerous GM positions but was repeatedly passed over, despite her stellar reputation and credentials. Ng, who served as an MLB senior vice president for 10 years, began to doubt she'd ever get her dream job, but she kept interviewing anyway. "The more she invested . . . the more she refused to give up," Ned Colletti, who recommended Ng for GM positions after becoming the Dodgers' GM in 2006, told the Times.
Some believe Ng was passed over again and again solely because of her gender. "Women were always looked at as intruders into a supposedly man's sport," Baseball Hall of Fame manager Joe Torre, a longtime colleague of Ng's, told the Times.
But there was no reason a woman couldn't do the GM job. The position, which involves selecting players and negotiating salaries, doesn't require on-field experience. The most respected GM in recent years, Theo Epstein, never played baseball seriously, notes Fred Bowen in the Washington Post.
Breaking through, at last In 2017, Jeter became CEO and part owner of the Marlins. As he worked to rebuild the struggling team, he actively recruited women and minorities. Ng, whom he'd known for 22 years, was the first person he called in 2020 when the Marlins' GM search began.
"Jeter's motivation for hiring Ng was simple," according to the Times. "He believed she was the best fit for the job."
Ng was rightly hailed for shattering the glass ceiling in a male-dominated sport. But her story also paints a picture of an organization repeatedly, even willfully, failing to capitalize on its top talent.
At the news conference announcing her hiring, Ng reflected on the many rejections she'd faced on the long road to the Marlins position. She said she'd kept applying not for herself, but to encourage other team owners to interview minorities and women—and to motivate "the women behind me, the women starting out in baseball" and other sports.
"Anything is possible," Ng concluded. "That's my message: Anything is possible."
Ng was rightly hailed for shattering the glass ceiling in a male-dominated sport. But her story also paints a picture of an organization repeatedly, even willfully, failing to capitalize on its top talent.
"It hurts"
What about the other eight high- ranking positions filled by MLB teams this past winter? Commissioner Manfred reportedly resorted to "pleading" with team owners to hire Black candidates, writes Bob Nightengale in USA Today. But after the flurry of negotiations, White men were hired for all of them. Numerous Black baseball executives with stellar qualifications were passed over, including Michael Hill of the Marlins, Billy Owens of the Oakland Athletics, and De Jon Watson of the Washington Nationals.
"I had fooled myself into feeling that by seeing people march on streets on our behalf . . . there was going to be some change," Chicago White Sox EVP Williams told Nightengale. "It hurts to see these guys are so damn good at what they do, and they continue to get bypassed over and over again. It physically hurts."
Manfred released a statement promising to address the problem by building "a sustainable pipeline" of underrepresented talent. "The problem is that the pipeline is filled with white Ivy League graduates," writes Nightengale. "There's a scarcity of minorities even among entry-level internships." But even proven baseball executives with Ivy League degrees, including Hill and Pittsburgh Pirates assistant GM Kevan Graves, continue to be passed over.
Benefiting from complexity
Organizations that succeed at hiring and promoting women and people of color are not only doing the right thing but also positioning themselves to capitalize on the proven benefits of
diversity. Firms with greater gender or racial diversity have higher sales revenue, more customers, and greater relative profits, a 2009 study of more than 500 firms by the late University of Illinois, Chicago, sociologist Cedric Herring showed. And in a 2011 study, Katrin Talke found that more diverse management teams developed more innovative products.
Because homogeneous groups tend to work together smoothly and efficiently, they can seem as if they're working well. But that type of ease tends to lead to simplistic, shallow thinking. Diverse groups may experience greater discomfort and disagreement, but it makes them more effective. "The simple fact of diversity promotes better preparation, more creativity, and deeper thinking by encouraging us to consider a range of viewpoints," writes Harvard Business School professor Francesca Gino in her book Rebel Talent: Why It Pays to Break the Rules at Work and in Life (Dey Street, 2018).
Despite these benefits, people tend to gravitate toward people who seem similar to them when filling job and team vacancies. "We all tend to seek out comfort and familiarity," writes Gino, "and this often translates into choosing to work with those who are like us."
Former Chicago Cubs president of baseball operations Theo Epstein identified this familiarity bias in his own decision making. "The majority of people that I've hired, if I'm being honest, have similar backgrounds as me and look a lot like me," he told USA Today. "That's something I need to ask myself why."
Reach out and text someone
In 2018, Jen Wolf left her midlevel job as coordinator of minor league and international operations with the New York Mets and began looking for a new job in professional baseball. To her frustration, she found that women were being funneled into either entry- level or executive positions. There didn't seem to be a place for her in the middle.
In February 2019, she found a job as a life skills coordinator in the Cleveland Indians' farm system. Then, with her recent experience in mind, she picked up her phone and connected about 10 other women working in baseball on a text chain. They added others, who reached out to others, Wolf told the New York Times. By November 2020, the "Women in Baseball" WhatsApp text chain included about 50 full-time professional baseball employees in roles ranging from scouting to coaching to media relations. All women employed in professional baseball or in-between jobs are welcome to join.
Together, they discuss their experiences in a male-dominant industry, including discrimination and harassment. They network, offer support, brainstorm solutions, celebrate promotions, and discuss how to improve gender and racial diversity in the sport. It's a novel example of how those who may feel marginalized can build community and, eventually, a more equitable world.
Toward a more diverse workforce
MLB isn't the only organization that's having difficulty following through on its diversity goals. Several negotiation and decision-making strategies may help leaders translate their good intentions into concrete results:
1. Change your pipeline. Organizational decision makers often complain that they have difficulty finding qualified African American candidates for leadership roles. As a result, "the issue of inclusion becomes framed as a question of accommodating and lowering standards, rather than a question of enhancing, strengthening, and amplifying the organization," said University of Virginia professor Laura Morgan Roberts at a March 2020 panel at the Darden School of Business.
The fact is, organizations that show a preference for Ivy League graduates are handicapping their diversity efforts from the start. Promising Black and Brown candidates often have been shut out of historically White institutions, so it's wise to look for them elsewhere.
A new recruiting startup called OneTen, which includes leaders from 37 corporations, including Merck, AT&T, General Motors, Nike, and Walmart, aims to generate one million jobs for Black workers in the next decade. OneTen plans to identify promising job applicants with the help of community colleges, nonprofits, and other organizations that are already known for nurturing Black talent. "As an employer, if I state that every job [applicant] has to have a college degree, I am predetermining the outcome," IBM executive chairman Ginni Rometty, one of OneTen's leaders, told the Times. "The talent is out there; I must find another pathway for it to come to me."
2. Enhance incentives. Educating managers about their implicit bias toward White male candidates is unlikely to significantly change the unconscious preferences they exhibit in their hiring decisions. Incentives may be needed to motivate cooperation.
This past November, the National Football League implemented a rule that rewards teams with draft picks for developing coaches who move on to higher coaching and managing positions with other teams. The policy motivates teams to hire and nurture talent that might otherwise be passed over.
Organizations that succeed at hiring and promoting women and people of color are not only doing the right thing but also positioning themselves to capitalize on the proven benefits of diversity.
Similarly, Starbucks and other companies have begun tying executive compensation to diversity goals. In 2018, Charles E. Jones, the CEO of Ohio-based utility FirstEnergy, was frustrated that his senior executives were not backing his efforts to hire and promote women and people of color, he told the Times. So Jones instituted a policy linking 10% of his and other top executives' bonuses to diversity goals and bumped the percentage up to 15% the next year. The first year, the company didn't meet its diversity goals, so executives did not receive that part of their bonuses. In 2019, FirstEnergy made progress toward hiring women and people from underrepresented ethnic groups for professional jobs, so it paid out a segment of the diversity- related bonuses. Regularly reporting progress toward such goals, whether internally or externally, can also create accountability.
3. Add structure to the interview process. Whether we're aware of it or not, we're all biased toward people who look like us or share a similar background. One way to avoid such bias is to add more structure to the interview process. In her book What Works: Gender Equality by Design (Belknap Press, 2016), Harvard Kennedy School professor Iris Bohnet writes that interviewers should present the same questions in the same order to all candidates and weight questions by importance. Avoid questions that assess "organizational fit," which tend to overvalue similarity, and include questions that encourage candidates to share any challenges they have faced. Minority and female candidates often have overcome significant roadblocks in their career paths that deserve
our consideration.
As past efforts suggest, no single one of these prescriptions can be expected to achieve a significantly more diverse workforce on its own. Leaders need to pursue an integrated approach to meeting diversity goals, one that empowers and encourages employees at all levels to be part of the solution.
Related Posts