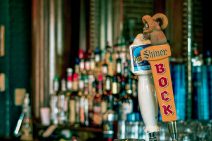 In negotiation, power often comes from the ability to walk away from the bargaining table. But what should you do when walking away would mean giving up? Faced with this dilemma, the owner of a venerable New York bar came up with a solution just in the nick of time. The story highlights both the use of power in negotiations and the role of leadership in negotiation.
Where Everyone Knows Your Name
Neir's Tavern, which opened in Queens in 1829, may be the oldest New York City bar to operate in the same location. It has been immortalized in several films, including Martin Scorsese's 1990 mafia classic, Goodfellas. 
In 2009, New York Fire Department lieutenant Loycent Gordon bought and restored Neir's, which he calls "the most famous bar you've never heard of," the New York Times reports. For many locals, Neir's is more than just a bar. Gordon offers it as a meeting space for local organizations and has dreamed of buying the building and opening a museum and cultural center. 
Those hopes were dashed in December 2018, when brothers Henry and Qing Shi bought the building in which Neir's resides for $1.35 million. The new owners quickly raised Neir's monthly rent from $2,000 to $3,000. Then, near the end of 2019, the landlords told Gordon they would be hiking the rent to $5,400.
Last Call for Alcohol? 
During happy hour on January 8, 2019, Gordon tearfully announced the tavern would close in a few days "unless a miracle happens." Drawing on power tactics in negotiation, he made a last-ditch appeal to New York mayor Bill de Blasio's office, according to the New York Daily News. Soon, the mayor and local officials gathered with Gordon and the Shis to try to hammer out a compromise. 
Talks were tense until Henry Shi revealed that he was having difficulty getting a mortgage on the building because it lacked the proper paperwork and didn't comply with current zoning rules, the Times reports. That knowledge led to a breakthrough: Shi agreed to a much lower rent increase for Neir's in exchange for a promise from an official that the building would get up to date with zoning requirements. The mayor promised Gordon a grant to spend on business improvements. Shi and Gordon shook on a new five-year lease with a renewal option. 
Raise a Glass
Neir's planned farewell weekend turned into a victory party at which de Blasio poured beer. Speaking to Gothamist, Gordon noted that local businesses lack power in negotiations with landlords: "What are we going to say, we'll walk away from our business? That's not leverage." Mayor de Blasio has declined to support proposed formal rent protections for small businesses, saying the courts were likely to overturn them.
As revelers toasted Neir's future, Teresa Cruz Arcos, who had lived above the bar with relatives since 2013, approached de Blasio with advocates from a local nonprofit group that had been helping her fight eviction, according to the Queens Daily Eagle. Benefiting from a New York state law that excludes small buildings from rent stabilization, the Shis were trying to evict the family. Cruz Arcos said they were up to date on their rent but didn't have a formal lease. 
With City Hall involved in the negotiation, the two sides eventually reached a settlement in which Cruz Arcos and her family would remain in the apartment rent-free for six months before vacating. "The family felt comfortable with the decision that was made," the family's attorney, Aura Zuniga, told the Daily Eagle. "They have the security of a set date, they can save money, and they have a set place to live." 
Bellying up to the Bargaining Table
Here are guidelines on the use of power in negotiations: 
Look for friends in high places.

Seeking assistance from a much more powerful party—the mayor—gave Gordon the publicity and leverage he needed and an opportunity to use his

conflict negotiation skills

. Cruz Arcos then wisely took advantage of the focus on Neir's to get help from the city. 

Probe their underlying interests. To potentially gain

power in negotiation

, ask lots of questions. After Henry Shi disclosed barriers to his plans, the negotiators could envision solutions. 

Level the playing field.

The mayor's office engaged in

participative leadership

in these instances, but it can't help every tenant facing soaring rents. New York leaders would be wise to develop systemic ways of giving tenants greater power in dealings with landlords. 
Regarding the use of power in negotiations, what unconventional strategies have you used to gain leverage?
Related Posts