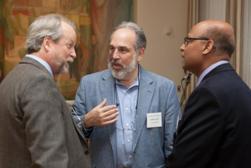 This summer, senior Arab and Israeli water negotiators and policymakers will convene in Cambridge, Massachusetts, along with individuals from more than 15 other countries to participate in the Water Diplomacy Workshop (www.waterdiplomacy.org) — a highly interactive, train-the-trainer program designed to help senior water managers improve their capacity to resolve complex water disputes.  The initiative is a collaboration between PON Executive Committee member and MIT faculty member Professor Lawrence Susskind and his colleague Professor Shafiqul Islam from Tufts University.
The Water Diplomacy Workshop is a five-day joint-learning experience that enables participants to master important network-management tools and teach these tools to others. It combines the science of water with the negotiation instruction methodologies developed by the Program on Negotiation at Harvard Law School. Interactive lectures, problem-solving clinics, and role-play simulations are used to help participants learn the techniques and strategies that are part of the Water Diplomacy Framework outlined in Islam and Susskind's new book, Water Diplomacy: A Negotiated Approach to Managing Complex Water Networks (Resources for the Future, forthcoming in 2012).
Professor Susskind has worked for more than a decade on projects designed to make headway on land claims and resource-sharing issues in the Middle East. With colleagues, he has worked to help Bedouins in the Negev and the Israeli government  reach agreement on how to resolve the land claims of Bedouins living in what Israel calls "unrecognized villages."  The team has also engaged a range of Israeli partners committed to building bi-cultural mediating capabilities that can be applied in land-use and other natural resources disputes throughout Israel and Palestine.
The approach is not limited to training experts and practitioners alone.  Dr. David Fairman, Associate Director of PON's Public Disputes Program, has led a joint CBI-PON effort to develop the Workable Peace curriculum (www.workablepeace.org) that aims to mobilize high school teachers in the Middle East to help students in Israeli and Palestinian high schools learn more about conflict resolution techniques.  The Workable Peace curriculum offers seven multi-party complex cases based on various conflict areas around the world, including one reflecting actual water and land disputes between Israelis and Palestinians in Hebron.
Related Posts