Fredrik Stanton to Discuss His Book "Great Negotiations: Agreements that Changed the Modern World"
"Great Negotiations:
Agreements that Changed the Modern World"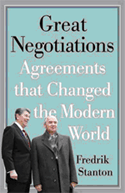 with
Fredrik Stanton
"Words as much as weapons, shape history. Whether to avert, assist, or secure the resolution of a conflict, in the modern age, diplomacy has had great triumphs and bitter failures."
Date: October 13, 2010

Time: 12:00PM to 1:00PM
Where: Pound Hall, Room 332, Harvard Law School Campus
Bring your lunch. Drinks and dessert will be served.
Click here for a campus map.
Speaker Bio
Fredrik Stanton is a John C. Whitehead Fellow of the Foreign Policy Association.  He has appeared on C-Span's Washington Journal and Voice of America, and his writing has been published in the Washington Post.com, Forbes.com, Politico, the Boston Herald and the United Nations Association's A Global Agenda. Mr. Stanton is the former president and publisher of the Columbia Daily Spectator. He has served as an election monitor in Armenia, Republic of Georgia, Bosnia, Kosovo and Azerbaijan. Mr. Stanton received a BA in Political Science from Columbia University.