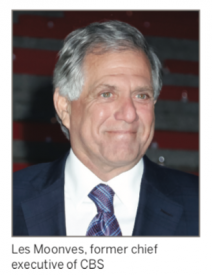 If time pressure has ever led you to accept proposals from a counterpart without negotiating them, a story coming out of the #MeToo movement may keep you from ever doing so again.
In July 2018, the New Yorker published an article by Ronan Farrow in which six women accused Les Moonves, the longtime chief executive of CBS, of sexual harassment between the 1980s and the late 2000s. Many more women described to Farrow a toxic workplace culture at CBS in which men accused of misconduct were promoted and accusers were paid settlements to keep quiet.
Moonves denied the charges against him, saying any incidents that occurred were consensual, and the majority of CBS's board initially rallied around him. However, two law firms hired by the board to investigate found Moonves' accusers to be highly credible. Then six more women described harassment or assault by Moonves in a second New Yorker article. The board forced him out in early September after negotiating a termination agreement that included a $120 million severance package.
Unfortunate incentives
On December 17, CBS said it would not pay Moonves his severance because he had violated firm policies, including lying to investigators and destroying text messages that revealed attempts to silence one of his accusers, according to the New York Times.
An interesting twist emerged the next day when the Times reported that CBS had been paying Moonves' legal fees in his months-long battle with the network over his departure and severance. The termination agreement Moonves walked away with in September gave him all rights of indemnification (compensation for harm or loss), including payment of his attorneys' fees. Of course, CBS was also paying its own legal fees, likely in the tens of millions of dollars, for investigating Moonves and advising its board.
"You get this bizarre result where the company essentially pays someone they fired to sue them," Wayne State University law professor Peter Henning, an executive compensation expert, told the Times. Indemnification clauses have become standard for top executives and are typically upheld by the courts when companies try to fight them after the fact.
Fighting to the bitter end
Clearly, the clause gives Moonves incentives to continue his fight for his severance until he has exhausted all avenues. He has the right to challenge the board's decision in a confidential arbitration proceeding and could also sue for breach of contract.
It might be cheaper for the network to settle with Moonves rather than continue fighting and paying both sides' fees. However, CBS would doubtless be pilloried by the media and the public for willingly giving Moonves a payout. The network has been an epicenter of the #MeToo movement, with 60 Minutes producer Jeff Fager and CBS News morning anchor Charlie Rose also losing their jobs following sexual misconduct allegations. In addition, the Times reported that CBS paid actress Eliza Dushku $9.5 million in January 2018 after she claimed she had been written off a CBS series for confronting the show's star, Michael Weatherly, about harassing her on set.
Interestingly, CBS had the chance to cancel the indemnification clause as part of Moonves' termination agreement but passed on the opportunity. Why? According to the Times, the termination deal was negotiated "over a hectic weekend" by the CBS board, which at the time included close allies of Moonves. It seems that any board members who objected to the indemnification clause may not have tried hard to get rid of it.
Lessons learned?
As expected, in January, Moonves demanded an arbitration process from CBS to fight its decision to deny his severance payment. The Times estimated that the process could cost CBS up to $50 million for both sides' legal fees; however, Moonves will have to pay the bill if he loses. The arbitration hearing will be confidential; the decision, binding.
A few clear lessons emerge from the crisis:
Don't negotiate in a rush. You won't have the time you need to fight for the best deal possible if you agree to negotiate in a hurry—and you could end up making costly mistakes under time pressure.
Toxic cultures breed toxic contracts. At a company where senior leaders reportedly were allowed to have assistants take anti-harassment training in their place, it's sadly not surprising that CBS's board agreed to pay for Moonves' legal bills. Clean up your culture and reap better deals.
Factor in reputational concerns. In Negotiation Briefings, we often encourage parties to try to save time and money by negotiating rather than taking their battle to court. When negotiating with an unsavory counterpart would attract negative attention, however, a legal battle may be the best among bad options.
Related Posts