On Valentine's Day, 1945, Matilda Genevieve Scaduto, the 20-year- old granddaughter of Sicilian immigrants, was working the elevator at a Milwaukee hotel when she met a traveling violinist named Boudleaux Bryant. He started calling her Felice, saying it suited her better than Matilda because she was happy all the time, according to American Songwriter magazine. The name stuck.
"Now we've got to do something about that name Scaduto," Boudleaux said to Felice a few days later.
"What suits you?" she asked.
"Bryant," he said.
They ran off together—Felice was estranged from her first husband— and married as soon as her divorce came through.
The Bryants' story is the story of a happy marriage, but it is also the story of a legendary creative and business partnership. And it's the story of how one woman negotiated for her voice to be heard in a man's world.
An ache to create
The newlyweds toured the country for a couple of years while Boudleaux played in bands. After they settled in Georgia, Felice, cooped up in their small home while her husband worked at dance halls, grew bored. As a child, she had written her own lyrics to traditional Italian songs, pouring her pent-up emotions into verse, according to a BMI Music press release. Now she started writing songs of her own.
Her husband took an interest and pitched in. The two collaborated on words and melodies, while Boudleaux wrote the harmonies. "We had so much fun that he couldn't wait to get home at night to see what the heck we were gonna come up with," Felice said in a Grammy Foundation interview. They jotted down songs on whatever scraps of paper were at hand, frequently misplacing them.
After they'd written 80 songs, Felice declared them to be at least as good as what they heard on the radio. Boudleaux started shopping the songs around to friends. In 1948, singer Little Jimmy Dickens recorded their song "Country Boy," which climbed to the Country Top 10. The Bryants became known for writing songs that were complex but unpretentious, spoken right to the heart. To get closer to the action, they moved to Nashville, Tennessee, becoming the country-music capital's first professional nonperforming songwriters. A community grew up around them.
Too good to be left out
In Nashville, the couple negotiated an unusual songwriting deal with legendary music producer Fred Rose, co-owner of Acuff-Rose Music Publishing: They agreed to give away their songs for free, as long as the rights would revert to them after 10 years. Rose persuaded the Bryants to start writing down their songs in accounting ledgers so they wouldn't keep losing them.
In 1957, Boudleaux met the Everly Brothers and sold them a song that the country duo Johnny and Jack had rejected, "Bye Bye Love." It was the Bryants' big break.
One day, Felice heard Boudleaux picking out "Wake Up Little Susie" on the guitar in another room. "Uh-oh, this sounds too good to be left out [of]," she thought, running to help. The song was a little risqué, "which is not what I thought the Everlys should be about," she said in the Grammy Foundation interview. She changed the lyrics to put the hapless couple in the song "at a drive-in movie falling asleep" rather than somewhere more compromising.
With their string of hits for the Everly Brothers, the Bryants broke out of country and into mainstream pop. When the rights to each song reverted to the couple after 10 years, producer Rose "wasn't happy," according to blog The Musical Divide.
The pasta scam
In the early days, Boudleaux and Felice were expected to travel to meetings to pitch songs to artists. "The men would talk over her, only to him," Bobbie Malone, who co-wrote a biography of the Bryants with her husband, told American Songwriter. "It hurt her that she wasn't taken seriously by the good old boys in Nashville."
So the Bryants began inviting artists over to dinner. When they arrived, Felice would ply them with wine and spaghetti, topped with her famous sauce. The authentic Italian home cooking she was raised on—"good olive oil and vinegar, lettuces and charred peppers, fresh-baked bread"—was exotic in Nashville in those days, the Bryants' son Del told American Songwriter.
Bellies full, the artists would be primed to "hear a song and maybe agree to record it," according to American Songwriter. Felice and Boudleaux jokingly called it their "pasta scam," Country Music Hall of Fame and Museum vice president Brenda Colladay told Nashville Scene.
If they wanted a song from the Bryants, artists learned, they'd need a much-coveted invitation to dinner. Felice "wouldn't let the ledgers out of the house," said Malone. "They would have to come to her territory and deal with her."
Felice always made sure the table was fully set for an irresistible negotiation. "I've seen my dad sit in a chair for 24 hours and write 12 songs," Del told American Songwriter, "because someone was coming over for spaghetti, and he was to have a lot of songs that might fit that singer."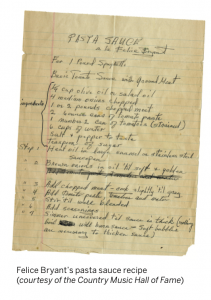 Love is like a flame
The Bryants weren't satisfied with simply selling a song to an artist: They wanted to make sure it was a hit. Boudleaux helped with arrangements in the recording studio. Then he and Felice would go on the road to try to persuade radio programmers to play the song, according to American Songwriter.
When their contract with Acuff-Rose ended in 1966, the couple started their own songwriting company, House of Bryant Productions. They ultimately co-wrote about 1,500 songs, including the frequently covered ballad "Love Hurts." The Bryants sold songs to artists ranging from the Beatles, Bob Dylan, and the Grateful Dead to Dolly Parton, Tony Bennett, and R.E.M. Among the most revered songwriters of the 20th century, they won dozens of awards.
Boudleaux may have been the trained musician, but Felice was the duo's driving creative force. "Mother had to write, and Dad had to keep her amused," Del told American Songwriter. "She wanted it more than Dad, and Dad wanted Mother more than anything."
Negotiation can be something we do by rote, dutifully deploying familiar tactics to meet a business goal. But as the Bryants—and especially Felice—showed, negotiation can also be the instrument of our deepest dreams and ambitions. A burning passion, a yearning to be heard, might drive us headlong into canny decisions: A move that puts us closer to the action. An unheard-of reversion clause. A more fitting lyric. An invitation to dinner. A commitment to mutual success.
After her husband's death in 1987, Felice's songwriting tapered off. She died in 2003. Her recipe for pasta sauce, written in her hand on yellowed notebook paper, is displayed in the Country Music Hall of Fame in Nashville, along with the Bryants' 16 songwriting ledgers.
Related Posts