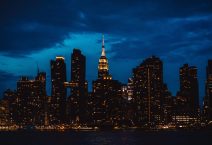 For some New York politicians, Amazon's announcement on December 6, 2019, that it was leasing office space in Midtown Manhattan for more than 1,500 employees was proof of their bad faith negotiation efforts. It also offered an irresistible opportunity to say, "I told you so."
"Won't you look at that," tweeted New York representative Alexandria Ocasio- Cortez. "Amazon is coming to NYC anyway—*without* requiring the public to finance shady deals, helipad handouts for Jeff Bezos, & corporate giveaways."
"Amazon is coming to New York, just as they always planned," said state senator Michael Gianaris in a statement. "Fortunately, we dodged a $3 billion bullet by not agreeing to their subsidy shakedown earlier this year."
The politicians were referring to the deal the retailing behemoth negotiated with the state and city of New York in late 2018 to build a campus for 25,000 new Amazon workers in Queens. New York governor Andrew Cuomo promised Amazon $1.525 billion in incentives, as well as support for infrastructure upgrades, job-training programs, and other perks. The company also would have benefited from existing New York City tax credits worth nearly $1 billion over 12 years.
Was it a power play or a bad faith negotiation?
Politicians led by Ocasio-Cortez and Gianaris, unions, and progressive groups protested the agreement as wasteful corporate welfare. Amazon had already generated ill will for luring hundreds of North American cities and regions into an expensive competition for its alleged second headquarters, or HQ2. When Amazon said it would split HQ2 between the two most obvious locations, New York City and the Washington, D.C., area, the contest looked to many like a predetermined farce.
Amid the firestorm of criticism, Amazon walked away from the New York arm of its HQ2 plan in February 2019. Ocasio- Cortez and others took the recent news that Amazon is creating thousands more jobs in New York as confirmation that the incentives had been a completely unnecessary power play in what they considered a bad faith negotiation.
Local officials noted that Amazon was creating only a fraction of the 25,000 jobs it had pledged for Queens. Yet Amazon said it would continue to grow its 8,000-strong New York City workforce— an expansion that is part of a larger tech-industry trend. The number of tech jobs in New York City has skyrocketed 80% in the past decade, from 79,400 in 2009 to 142,600 in 2019, according to the New York State Comptroller's office. With high-skilled employees increasingly preferring New York City over Silicon Valley, established tech companies, including Amazon, Facebook, Google, and Apple, as well as startups, are scrambling to pin down leases and hire workers in Manhattan and other boroughs. After an emergency search for Manhattan office space to accommodate up to 6,000 workers, Facebook chose three buildings in Hudson Yards, a vast new West Side development.
Writing in the New York Times, Matthew Haag says that the growth in New York is "occurring largely without major economic incentives from the city and state governments." Local politicians, eager to avoid a repeat of the Amazon HQ2 debacle, are finding that companies don't need tempting carrots to be persuaded to come to town.
This isn't only true for cities benefiting from a boom, like New York. The majority of incentives are offered to companies that would have moved to an area even without them, according to W.E. Upjohn Institute for Employment Research economist Timothy Bartik.
There's a broader lesson here. When you feel desperate to close a deal, it can be tempting to offer more than is necessary just to lock it down. To avoid this trap, try not to get caught up in price contests. Instead, ask your target to negotiate one- on-one with you on deal terms where you may be more competitive. And, remember: They may be just as anxious to close a deal with you as you are with them.
What do you think? Was this a bad faith negotiation strategy on Amazon's part? Or simply a company trying to get the best deal possible?
Related Posts