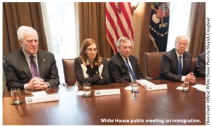 On September 5, 2017, President Donald Trump announced that in six months he would phase out Deferred Action for Childhood Arrivals (DACA), the Obama-era policy that has shielded from deportation about 800,000 people brought to the United States illegally as children. Members of Congress seeking permanent protections for the so-called Dreamers covered under DACA then faced a March 5, 2018, deadline to get an immigration bill passed. To do so, they would have to win over lawmakers from both the right and left.
Various small groups of lawmakers began meeting to negotiate a deal, but talks didn't take off until the early days of 2018, when Trump gave his stamp of approval to bipartisan negotiations. On January 9, the president put talks on the fast track by convening a meeting at the White House with 25 Democratic and Republican members of Congress who have been active on immigration and Secretary of Homeland Security Kirstjen Nielsen.
Typically, presidents invite the news media into the room for the first few minutes of such meetings "to record the traditional platitudes before being kicked out," writes Peter Baker in the New York Times. In an extraordinary move, however, Trump allowed the media to attend and record the first hour of the negotiating session.
The meeting, broadcast on television and online, gave the public a rare opportunity to witness Washington dealmaking in action. It also allowed the president to counter the impression conveyed in journalist Michael Wolff's newly published bombshell book, Fire and Fury: Inside the Trump White House, that he is forgetful, disengaged, and unstable. In addition, the meeting gave Dreamers and their supporters hope that an immigration deal was close at hand.
But these shifts were short-lived. In another meeting on immigration just two days later, this one private, Trump pivoted from cooperation to conflict. A close look at the two very different talks reveals the influential role of advisers in negotiations with highranking leaders.
Defining the scope
After kicking off the publicly broadcast White House meeting on January 9, Trump invited lawmakers to address the pivotal question of which immigration related issues to include in their hypothetical deal. As they were keenly aware, hot-button issues—including a path to citizenship for the roughly 11 million undocumented immigrants in the United States, border security, and rules on foreign workers—have stymied attempts at immigration reform in recent years and likely would be impossible to negotiate in two months.
With the clock ticking toward DACA expiration, most lawmakers argued for a bill that would cover just three issues: (1) protections for Dreamers; (2) beefed-up border security, including Trump's campaign promise of a border wall between the United States and Mexico; and (3) efforts to reduce immigration based on family ties, sometimes known as chain migration. The scope was narrow, but the inclusion of issues on which they disagreed could give Democrats and Republicans opportunities to make tradeoffs.
Republican Senator Lindsey Graham, who supports a path to citizenship for the undocumented, said he agreed with the "smart but hard" decision to postpone more comprehensive immigration reform.
"You talk about comprehensive reform," Trump said to Graham. "If we do the right bill here, we are not very far away [from that]. And if you want to take that further step, I don't care. I'll take the heat. I'll take all the heat you want to give me . . . from both Democrats and Republicans. My whole life has been heat. I like heat, in a certain way."
Those present were surprised by Trump's newfound openness to comprehensive immigration reform, given his antiimmigrant rhetoric during the presidential campaign. The president also hedged on his past demands for a wall spanning the entire U.S.-Mexico border. "We don't need a 2,000-mile wall," he said, noting that parts of the border have natural barriers.
Trump went on to tell the lawmakers that he trusted them to reach a good deal. "When this group comes back, hopefully with an agreement," he said, "I'm signing it. I'm not going to be saying, oh gee, I want this or I want that. I'll be signing it. Because I have a lot of confidence in the people in this room."
Shooting for the moon
Democratic senator Diane Feinstein then made a bold proposal. "I don't know how you would feel about this," she said to Trump, "but I'd like to ask the question: What about a clean DACA bill now, with a commitment that we go into a comprehensive immigration reform procedure?"
Feinstein was asking for a bill on a single, Democratic-favored issue—protections for Dreamers—with no other issues on which Republicans could negotiate concessions, such as border security.
"I have no problem [with that]," Trump responded. "We're going to do DACA, and then we can start immediately on the Phase 2, which would be comprehensive [reform]."
"Would you be agreeable to that?" Feinstein said.
"Yeah, I would like to do that," Trump said.
No doubt alarmed, Republican senator Kevin McCarthy, a close ally of Trump, interjected: "Mr. President, you need to be clear, though…you have to have security.…"
"I think that's what she's saying," President Trump said of Feinstein.
"I think she's saying something different," said McCarthy. "I'm thinking you're saying DACA without security," he said to Feinstein. "Are you talking about security as well?"
Feinstein suggested that the security issue should be postponed. McCarthy then reiterated his support for three-pronged talks on DACA, border security, and chain migration.
"Do you really think there can be agreement on those three difficult subjects . . . in time to get DACA passed and effective?" Feinstein asked McCarthy doubtfully.
"Yes," said McCarthy. "Us getting to the room? I haven't seen us be this close at having this discussion in quite a few years. . . . I believe we can get there, and we can just keep working each day on this."
Feinstein didn't press the issue further. Later in the meeting, Trump clarified that he did not support a DACA-only bill and would require a border wall but was flexible on other issues. Throughout the meeting, Trump also added a fourth issue to the discussion, repeatedly arguing that the current random "Green Card lottery" for legal immigration to the United States should be replaced with a merit-based system that prioritizes in-demand workers.
A "peachy" deal
When Trump finally dismissed the media after an hour, he had met his goal of appearing presidential, rational, and focused. "He was in command of the meeting while inviting input," wrote Baker in the Times. "He did not berate anyone. He did not call anyone derogatory nicknames. He signaled that he was open to compromise."
Trump reportedly continued in that collaborative vein after the doors closed. "It was more constructive than I believed it was going to be," Democratic senator Michael Bennet told the Times after the meeting. The collegial tone left many of the lawmakers feeling upbeat. "There's a path forward," Republican senator John Thune told reporters. "Everybody wants, eventually, to get to yes." But some conservatives were alarmed by Trump's expressed flexibility. "We were freaked out," immigration hardliner Mark Krikorian, the head of the Center for Immigration Studies, told the Washington Post.
Having received their marching orders from Trump, the Senate's so-called "Gang of 6," a bipartisan immigration working group that included Graham and Senate Democrat Richard Durbin, splintered off to negotiate a deal they could bring to the president. That evening, a San Francisco federal judge issued an order blocking the Trump administration from ending the DACA program, a ruling viewed by most as only temporary.
Two days later, on January 11, the Gang of 6 had reached an "agreement in principle," according to Republican senator and group member Jeff Flake. Under the proposal, Dreamers would be given a 12-year path to citizenship, but in a concession to Republicans, their parents would not be eligible to become citizens. The deal would allocate $2.7 billion for border security, including Trump's requested $1.6 billion for a border wall. Finally, in line with Trump's request, the Democrats in the group made a significant new concession on legal immigration. The current annual random lottery for 50,000 U.S. visas would be eliminated. Merit-based visas would instead be given to immigrants from underrepresented countries. In addition, immigrants previously admitted after natural disasters from countries such as El Salvador and Haiti, whose visas are expiring, would regain their protected status.
Durbin called Trump around 10:15 that morning to brief him on the deal, the Post reports. According to White House officials and congressional aides, Trump expressed pleasure, praised Durbin's efforts, and invited him and Graham to visit him at noon. "It's all peachy," Flake told reporters, Vox reports.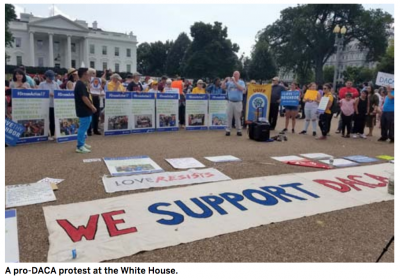 The mood sours
When Durbin and Graham arrived at the Oval Office to brief Trump on their proposal, they were surprised to find immigration hard-liners from the Senate— Republicans McCarthy, Tom Cotton, David Perdue, and Bob Goodlatte—also in attendance. The White House summoned the conservatives to the White House at the last minute, according to the Post, because Stephen Miller, Trump's chief immigration adviser, was concerned that Durbin and Graham would try to "trick" Trump into signing a bill that would antagonize his political base. In addition, White House Chief of Staff John Kelly cautioned Trump before the meeting that the proposal would probably harm his agenda.
Trump's mood had darkened considerably since his phone call with Durbin. He rejected Durbin and Graham's deal, saying it didn't include enough money for his desired border wall. And in a discussion of merit-based immigration, the president asked why the nation needed more Haitians, insulted African countries using vulgar language, and suggested that immigrants from countries such as Norway should be admitted instead, according to the Post.
Goodlatte urged Durbin to adopt the more conservative bill that he'd proposed, but Durbin was not interested. Overall, the meeting was "short, tense, and often dominated by loud cross-talk and swearing," Democrats and Republicans told the Post—the complete opposite of the Tuesday meeting. Graham and Durbin left feeling shaken. "Tuesday we had a president that I was proud to golf with, call my friend, who understood immigration had to be bipartisan," Graham lamented during a Senate hearing. "I don't know where that guy went, but I want him back."
Trump's rejection of the deal and the report that he'd used vulgar, racially charged language left negotiations to protect the Dreamers in tatters. (Durbin and Graham confirmed the Post's reporting; Trump tweeted that his language had been "tough" but not as reported, and Perdue and Cotton accused Durbin of misrepresenting the president.) The Gang of 6 continued to negotiate and lobby for its deal in the Senate, but it and other immigration proposals failed to gain traction.
On January 14, the Trump administration resumed receiving renewal applications from DACA-eligible individuals in accordance with the federal court order. The same day, Trump tweeted that DACA was "probably dead." When Republicans refused to attach protections for Dreamers to a short-term spending bill, Democrats filibustered and induced a three-day government shutdown that ended with no clear resolution on DACA.
5 lessons from two very different meetings
The following negotiation takeaways emerged from the White House talks on immigration:
Negotiate the scope of talks. Generally in negotiation, the more issues on the table, the more opportunities there are to create value through tradeoffs. But when you're negotiating controversial issues on a tight deadline, you may need to narrow the scope to ensure agreement, especially when trust is low. Look for the sweet spot between complexity and simplicity.
Weigh the costs and benefits of going public. Because negotiators may be tempted to grandstand for their constituents, negotiations conducted in public often are more contentious than those held behind closed doors. But when a party has an interest in appearing conciliatory and reasonable, that tendency may be reversed. Before negotiating publicly, consider whether doing so is likely to promote cooperation or competition.
Try shooting for the moon. Feinstein's request for a single-issue negotiation on Dreamer protections was unlikely to succeed, but it was worth a try. A big "ask" can serve as an anchor that pulls the discussion in your desired direction.
Anticipate the influence of advisers. Top leaders often take a "big picture" approach and let their close advisers negotiate the details. For this reason, it's often wise to negotiate with those advisers directly. Lobby them for their support, and encourage them to get leaders on board. If advisers won't fall in line, look for ways to reduce their influence on the leader.
Establish a representative working group. The Gang of 6's deal was thwarted by hard-line voices on immigration in Congress and the White House, which felt excluded from the group's negotiations. When appointing a committee to represent a larger group, make sure it includes the full range of perspectives.
Related Posts