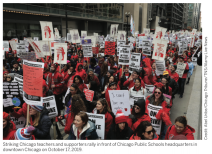 Chicago mayor Lori Lightfoot, a former federal prosecutor and head of the Chicago Police Board, was elected in 2018 as a reformer calling for big improvements to Chicago's chronically underfunded public schools, including smaller class sizes, and more nurses and social workers. One of Lightfoot's first major challenges after being sworn in on May 20, 2019, was to negotiate a new labor contract with the Chicago Teachers Union (CTU), which represents the Chicago Public Schools' 25,000 teachers.
With cash-strapped Chicago facing a hefty budget deficit and a pension crisis, Lightfoot was in the difficult position of trying to hold the line on costs against a union pushing for the very reforms she'd promised during her campaign. Those negotiations quickly escalated into a strike that carried over 11 school days and caused widespread disruption for the families of the district's 300,000 students. We revisit key elements of the contentious negotiations and lessons learned.
Negotiating perspective
The city's opening offer to the union included a 14% pay raise for teachers over five years, according to the Chicago Tribune. The union countered by asking for a 15% raise over three years; the city then offered 16% over five years.
The intent behind the mayor's generous offer was to avert a strike. But the offer reflected the incorrect belief that salary was the most important issue for the CTU's members.
The city perceived that the union was "going to take the 16% and run," Chicago alderman Anthony Beale told Reuters. "But for CTU, it wasn't all about the money."
In fact, Chicago teachers' average salary, $71,150, was already higher than that of teachers in many other major U.S. cities, including New York and Philadelphia. By all accounts, Chicago teachers were more concerned about the effects of chronic underfunding on the district's students.
With many schools lacking nurses and social workers, children's health and well-being was being put at risk, many teachers believed. Crowded classrooms—some with as many as 40 students—were keeping students from learning and overburdening teachers, according to the CTU. The union also wanted more support for children who are homeless, a reform of the city's juvenile justice system, and lower housing costs for teachers (who are required to live in the city limits).
Having squandered salary as a bargaining chip early in the talks, Lightfoot was left without salary increases to offer the union in exchange for concessions on class size, staffing, and other issues.
Lesson: Get a strong sense of what your counterpart values most before making any offers, or you'll risk conceding too early and have difficulty making tradeoffs on other key issues.
Negotiating scope
According to a 1995 Chicago labor-relations law, the CTU can strike over pay and benefits but not over issues related to working conditions, including class size, staffing, and layoffs. As a result, the CTU said it would decide whether to accept the city's salary offer only after other issues had been resolved. That enabled the union to cite the salary issue as the official justification for a work stoppage, Chicago's WBEZ radio reported.
When the strike began on October 17, union leaders and teachers made it clear in protests, speeches, and interviews that class size, staffing, and other educational issues were a bigger concern than salary. The city could have gone to court to argue that the union's strike was illegal because of its broad scope, but that might have led to the arrest of picketing teachers and staff—a potential public relations nightmare for the mayor.
Lesson: Resist your counterpart's efforts to narrow the scope of talks. Adding more issues to the conversation creates opportunities for valuable tradeoffs that can benefit all parties involved, if they can see the big picture.
Negotiating pace
Lightfoot's decisive victory in the mayoral runoff race—she won all 50 of Chicago's wards—was a defeat for the CTU, which had backed her opponent, Cook County Board president Toni Preckwinkle. The outcome "set the stage for a walkout where the union could flex its muscles and try to impose its will on a political newcomer it opposed," according to the Tribune. In a Tribune interview after the strike, Lightfoot said she believed the CTU had planned for a walkout even before negotiations began.
On the first day of the strike, the two sides met for a few hours; then CTU negotiators broke for a rally and reportedly were unavailable to negotiate over the weekend because they were attending a conference. With the strike in full swing, Lightfoot accused the CTU of unnecessarily slowing the pace of talks.
"We could have had this deal at the end of August," Lightfoot complained to the Chicago Sun-Times. "If you really want to avoid a strike, you . . . ramp up the bargaining days. You stay at it night and day." The city had shown a "sense of urgency," she said, "but it takes two to tango."
Likely adding to Lightfoot's frustration was the fact that the union was well organized and effective at getting its message out to the public through protests, picket lines, speeches, and interviews. Meanwhile, the new mayor struggled to gain the backing of supporters who could get her message to the public.
Lesson: Negotiators often slow down or speed up talks to try to gain an advantage. Having launched a strike that pressured Lightfoot to make concessions, the CTU may have then ratcheted up that pressure by limiting their bargaining time. Stay attuned to such tactics, and do what you can to defuse them.
Negotiating victory
On October 30, the two sides reached a $1.5 billion deal that they both say will transform Chicago schools, according to the Tribune.
"Nobody wins in a circumstance like this," Lightfoot told reporters, speaking of the punishing strike. But in the end, the city met many of the CTU's demands: a guarantee that an additional 250 nurses and 209 social workers will be hired by 2023, as well as additional staff for schools with high numbers of students who are homeless, and the 16% salary increase over five years. The union didn't win reductions to class-size limits but did get funding to better police violations of suggested class-size limits.
As for the mayor, she secured a five- year contract rather than the three years desired by the union, which would give the city more time to hire the promised staff members and push the next round of negotiations beyond her current term in office. Moreover, Lightfoot refused to negotiate the broad social-justice reforms that the CTU had pushed for.
Some critics felt the city had given away too much, but Lightfoot insisted her office had agreed only to terms that were "sustainable and financially responsible," according to the Times. The mayor will soon return to the bargaining table to face Chicago's powerful police and fire unions, who may view the CTU's deal as an indication that they can demand "similarly lucrative packages," the Tribune reports.
Lesson: Try to view negotiation as a collaborative enterprise rather than a win-lose contest—and encourage your counterpart to do the same.
Why so many strikes?
Even as the percentage of Americans belonging to labor unions has dropped— from 25% in the 1970s to about 10% today—in 2018, the number of striking workers rose to its highest point since the 1980s: almost 500,000. Miners, hotel workers, teachers, autoworkers, and other groups have all launched high- profile strikes in recent years.
Why is this the case, when the economy is doing well? Historically, the longer an economic expansion continues, the more likely workers are to strike, Washington University professor Jake Rosenfeld told the New York Times. When employment is high, workers feel they have greater leverage to make demands, knowing they will be harder to replace.
Compounding this trend, many Americans believe they've been left behind in the current economic boom. During the recession that began in 2008, many organizations asked employees to accept salary freezes or reductions, cutbacks in benefits and hours, and other hardships. Corporate profits rebounded nationwide by 2010, yet with their earnings still flat, many Americans are struggling to make ends meet. The share of the national income that workers receive is at its lowest level since World War II, the New York Times reports. Many workers "have come to believe that they fell for a sucker's bet, as they watched their employers grow flush while their own incomes barely budged," writes Noam Scheiber in the Times.
Fairness concerns loom large in all types of negotiations, to the point that we sometimes care more about how our outcomes compare to those of others than we do about our objective results. When quality of life is at stake, such concerns will motivate people to do whatever it takes to get what they believe is their fair share—including going on strike.
Related Posts