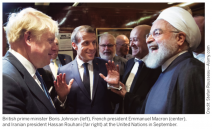 If you've ever tried to play peacemaker between sworn enemies and failed, you might sympathize with the difficulties French president Emmanuel Macron had trying to engineer a face-to-face meeting between U.S. president Donald Trump and Iranian president Hassan Rouhani at the United Nations General Assembly meeting in New York City this past September.
After Trump pulled the United States out of the 2015 multilateral nuclear deal with Iran in 2018, Iran resumed its nuclear activities, behavior that prompted punishing sanctions from the U.S. government. Tensions only grew after Iran was suspected of attacking Saudi oil facilities. In his September speech at the U.N., Macron, eager to deescalate the situation, called on world leaders to engage in a plan that would include opening up new talks on Iran's denuclearization and lifting U.S. sanctions on Iran, the Wall Street Journal reports.
In his own U.N. speech that day, Trump condemned what he called Iran's "bloodlust"—yet also said the United States "has never believed in permanent enemies." In fact, Trump reportedly was keen to meet with Rouhani. It had been 40 years since an American and Iranian president had met in person, and Trump, facing an impeachment inquiry, was eager for some positive PR.
But Rouhani, directed by Iran's supreme leader, Ayatollah Ali Khamenei, said he wouldn't meet Trump until all U.S. sanctions had been lifted. With Trump refusing to meet that precondition, Macron proposed offering Iran a $16 billion European credit line to help prop up its slumping economy, the Journal reports. Iran would just need to promise to halt its nuclear program, and Trump would have to agree not to impose further sanctions.
Amid a swarm of reporters and diplomats at the U.N., Macron, with British prime minister Boris Johnson at his side, tried to persuade Rouhani to meet with Trump. It would be a "lost opportunity" if the two didn't meet because "President Trump will not go to Tehran," Macron said through a translator. Rouhani "threw his head back and laughed," the New Yorker reported. Then Johnson said that Rouhani and Trump "need to be on the side of the swimming pool and jump at the same time." The metaphor—and perhaps the mental image it conjured— made Rouhani laugh even harder.
That evening, Macron "blindsided" Rouhani by showing up at the New York hotel where he was staying, accompanied by aides and a team of technicians who set up a secure phone line in a meeting room, according to the Times. Trump got on the line at 9:30 p.m. But Rouhani refused to take the call or even emerge from his bedroom, according to the New Yorker.
The next day, Rouhani spoke to Trump through his U.N. speech: "Stop the sanctions so as to open the way for the start of negotiations." Later, Rouhani told reporters that he had been assured by European leaders that Trump had been ready to lift the sanctions and negotiate. Trump responded in a tweet: "Iran wanted me to lift sanctions . . .I said, of course, NO!"
Macron's peacemaking efforts may not have paid off this time, but his persistence and creativity suggest he will keep trying—and perhaps eventually succeed.
Related Posts