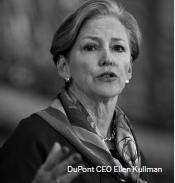 A risky decision to fend off a corporate raider pays off in the end.
Over the past two years, billionaire investor Nelson Peltz and his hedge fund, Trian Fund Management, fought to win up to four seats on DuPont's 12-person board of directors in the hope of shaking up the 212-year-old company. Over the same two years, DuPont CEO Ellen Kullman worked on several fronts to attempt to stave off Trian's incursion and maintain control of the company. The dramatic conclusion of one of the largest proxy battles in U.S. history highlights both the risks and potential rewards of engaging in a power struggle.
A surprising target
DuPont would seem to be an unlikely target for a proxy battle. One of the oldest and largest companies in the United States, Dupont has seen its stock outperform the broader stock market since Kullman, a 27-year veteran of the company, took its helm in 2009. The CEO has earned high marks from many shareholders for cutting costs and raising profits by spinning off slow-growing divisions, the Wall Street Journal reports.
But in July 2013, two members of Peltz's family, who are officers at Trian, set up a meeting with Kullman and DuPont CFO Nicholas Fanandakis. At the meeting, the Trian officers laid out the hedge fund's plan to break up DuPont into four parts.
Increasingly, companies choose to settle with activist investors rather than embark on a potentially lengthy and costly battle over a shareholder vote. But on the advice of DuPont's bankers, Kullman and her team rejected the proposal and said they would not give Trian members board seats. In doing so, they sent the message that they were prepared to fight to the bitter end.
A costly battle
Kullman and other DuPont leaders negotiated repeatedly with Trian representatives to forestall a proxy vote, but Peltz's insistence on personally gaining a seat on DuPont's board remained a deal breaker for Kullman.
Kullman told Forbes that at a private meeting in October 2014, Peltz said Trian would search for embarrassing information to disclose about her and DuPont board members if she didn't give him a seat on the board. (Through a spokesperson, Peltz denied making such threats.)
Kullman's efforts to block Trian's plans required her to devote many months to lobbying DuPont shareholders for support. She told Forbes that several DuPont investors advised her to allow DuPont to move forward by backing down and giving Peltz a board seat. Kullman refused. "I don't think you put someone on the board based on the criteria of, What will it hurt?" Kullman told Forbes. "That seems like a very low bar."
"In the end, both sides made the fight personal," a source close to Kullman told Forbes. "I think that was the big mistake."
The fight was expensive for DuPont—it paid advisers many millions to mount its defense—and also may have contributed to a dip in the company's earnings for the first quarter of 2015. Moreover, it was a risky strategy that came down to the wire, with shareholders, management, and other major players closely watching the vote returns on May 13.
In the end, however, Kullman was vindicated: The chemical giant's shareholders affirmed their support for her leadership by voting to reelect all the company's sitting directors.
In public statements, Trian conceded defeat but took credit for persuading DuPont to make positive changes in response to the hedge fund's criticisms, such as upgrading its board of directors, authorizing a $5 billion share buyback, and cutting costs.
3 lessons for navigating power struggles
1. Pick your battles with care. Trian launched an uphill fight when it decided to target a relatively successful and stable company. Before setting ambitious goals in and out of negotiation, conduct thorough cost-benefit analyses to assess how they may play out.
2. Negotiate first. Provoking someone with threats isn't usually the best way to get what you want. Instead, begin by listening to the other party's perspective and exploring opportunities for collaboration.
3. Know when to walk away. Rather than escalating commitment to a risky course of action—a common phenomenon—examine your alternatives at each stage of the conflict or negotiation.
Related Posts