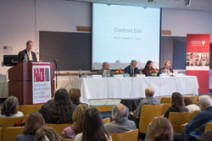 On Saturday, April 20th more than a hundred people came out to Harvard to attend the PON co-sponsored conference "Confronting Evil: Interdisciplinary Perspectives."  Held just six days after the bombings at the Boston Marathon, and one day after many area residents were asked to "shelter in place" by the police during their search for the bombing suspect, the topic hit unexpectedly close to home.  Originally planned for two days, the conference was compressed into one, and featured four panels addressing the following topics:  The Concept and Rhetoric of Evil; The Psychology of Evil: Cognitive, Behavioral, and Social Implications; Witnessing Evil in World Affairs: From Everyday Evils to Extraordinary Crimes; Responding to Evil: Should We Bargain with the Devil?
Robert H. Mnookin, Chair of the Program on Negotiation, moderated the final panel, which also featured HLS professors Gabriella Blum and Philip Heymann.  Max Bazerman, a member of PON's Executive Committee and professor at Harvard Business School, spoke on the second panel.  The conference was co-sponsored by the Mahindra Humanities Center at Harvard and the Volkswagen Foundation.
Read more about the Confronting Evil Conference on the Harvard Law School website.
Related Posts