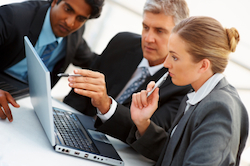 In this business world, it's typically smart practice to keep disputes with key partners private, at least until doing so becomes unfeasible for financial or other reasons. That's why the book publisher Penguin's decision to file lawsuits against 12 of its authors for breach of contract is being widely judged as a public relations misstep.
Many of its writers are being sued over advances they received, ranging from $10,000-$81,000, for books they never delivered to the publisher. Another of the writers, Herman Rosenblat, delivered a contracted book to Penguin that was ostensibly about his experiences as a boy in a Nazi concentration camp. It turned out later that Rosenblat had fabricated the memoir's story. Penguin wants Rosenblat, who is in his 80s, to return his $30,000 advance plus $10,000 in interest.
"Penguin regrets that it had to initiate litigation in these cases, and it did so reluctantly, only after its repeated attempts at amicable resolutions were ignored," Penguin said in a statement.
Advances are intended to give authors a break from their day jobs to concentrate on the manuscript under contract. In fact, the publishing industry has a long and storied history of looking the other way as advances are used contrary to their intention.
"We've all heard stories of Ford Maddox Ford, Ernest Hemingway, and Thomas Wolfe, how they got their advances from their publishers, even though they were probably just, you know, drinking all of the advance money," literary agent Miriam Gotteridge told NPR's Morning Edition.
But in an era when many traditional publishers are struggling to survive, advances are smaller than ever, and it may be getting harder for publishers to write them off as just another cost of doing business.
Penguin is suing Elizabeth Wurtzel, the author of the bestseller Prozac Nation for failing to deliver a book on helping teenagers cope with depression. "There's no reason to sue me," Wurtzel said in an interview with Morning Edition. "There was a reason to say look, we're really serious and we need to talk about this." Wurtzel dimly remembered receiving a letter from Penguin about the advance, but said she failed to respond "because I'm an author and I'm not good about this stuff." Wurtzel claimed she failed to finish writing the book because her editor left Penguin and no one else pursued the project.
Penguin appeared to be pursuing a business strategy that "doesn't treat authors differently from any other contractor," said Wurtzel. But she criticized the house for failing to factor in the importance of its relationships with its writers, noting that Prozac Nation continued to earn money for the company. She questioned why Penguin didn't try to collect the advance from her ongoing royalties.
Another literary agent, Robert Gottlieb, told NPR he was "astounded" by the lawsuit, which he called "wrong-headed," saying the amount of money involved was insignificant. "I would advise any publisher who does this that they'r setting themselves up for enormous criticism and risk," Gottlieb said, noting that some of the authors sued "earned $20,000  for writing a book over a period of a year or two."
Some see it differently. Award-winning young-adult author John Green wrote on Twitter, "If you are paid for a book you don't write, you should have to return the money. That seems pretty obvious to me."
Whether Penguin recoups the disputed advances through litigation or negotiated settlements with authors remains to be seen. But if it filed the lawsuits in an attempt to draw attention and sympathy to the previously overlook issue of squandered book advances, it may have already lost in the court of public opinion.
Related Posts