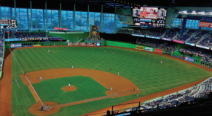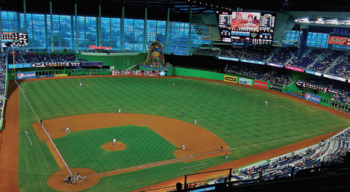 The fallout from a disadvantageous negotiation can reverberate for years to come. That's what the City of Miami is learning from its 2009 stadium deal with Florida Marlins owner Jeffrey Loria as he reached an agreement to sell the team this past August.
Off to a winning start
Loria launched his career as a Major League Baseball (MLB) team owner back in 1999, when he bought a 24% stake in the Montreal Expos, a neglected team with a crumbling stadium, for just $12 million, writes Jonah Keri for CBS Sports. Within two years, as the team's fortunes continued to suffer, Loria engineered the financing needed to secure a 94% stake in the franchise.
Then came "the Great Franchise Switcheroo of 2002," as Keri calls it. With the Expos' future in Montreal uncertain, Loria sold the team to the other 29 MLB owners for $120 million—10 times his initial investment—and bought the Marlins for $158.5 million from their owner, John Henry, who turned around and bought the Boston Red Sox. Loria funded the difference in the Marlins purchase with a $38.5 million interestfree loan from the MLB.
Carrots and sticks
The Loria era started on a high note for the Marlins: In 2003, the team beat the New York Yankees in the
World Series. But then Loria traded away some of the team's stars and didn't make a serious effort to rebuild. According to Loria, he couldn't afford to invest in payroll because ticket sales were so low. Fans stayed away from the Marlins' outdoor stadium during Miami's many hot, humid, and rainy summer days.
What the team needed to reverse its fortunes was a retractableroof stadium, Loria said. He then claimed—while refusing to open the team's books—that he couldn't afford one himself. Saying taxpayer financing was needed, Loria began threatening to relocate the team to another city while also touting the economic development a new stadium would surely bring to the ballpark's Little Havana neighborhood.
Whether swayed by these messages or by campaign contributions, city leaders fell in line behind a very generous deal: City of Miami and Miami-Dade County taxpayers would pay about 75% of the $634 million construction costs for the 37,000-seat stadium. The team itself would pay just $125 million and keep almost all the revenue generated from the building.
With some government officials reluctant to vote in favor of the ballpark, Loria made a concession on the percentage he would pay the city if he sold the team in the next 11 years. Profits would be shared on a sliding scale: 70% in year one, 60% in year two, 50% in year three, 5% in year five, and less in the years after that.
Build it, but they might not come
When it opened in 2012, the shiny, new Marlins Park substantially enhanced the value of the team, but the economic benefits Loria had predicted failed to materialize. Ticket sales remained stagnant, and with the stadium surrounded by parking garages, opportunities to revitalize the neighborhood were few. The team has not had a winning season in eight years.
Moreover, the burden the stadium placed on taxpayers turned out to be far worse than anticipated. Largely because Miami-Dade County used public bonds to secure high-interest loans to fund the deal, the stadium is expected to cost taxpayers a whopping $2.4 billion over 40 years, according to the Broward County Sun-Sentinel. The stadium itself is tax-exempt; Loria pays about $2.3 million annually in rent, which is used to pay back a $35 million loan from the county.
Meanwhile, contrary to claims that the team was operating in the red, a 2010 Deadspin exposé suggested that the team was turning a profit—and that Loria was funneling millions of dollars into his own pockets each year as "management fees." The Securities and Exchange Commission launched an investigation but closed it without filing charges four years later. Voters angered by the deal recalled Miami-Dade mayor Carlos Alvarez in protest.
The competition heats up
As the Marlins played another lackluster season, Loria began floating the idea of selling the team in late 2016 at a price of $1.7 billion, according to the Miami Herald.
Forbes estimated the team's value to be $675 million, second-lowest among MLB teams. But media revenues have been exploding league-wide, and a highly lucrative TV deal with Fox appeared to await the Marlins in 2020. New owners might also be able to sell naming rights to Marlins Park. And then there was the cachet of owning an MLB team with a brand-new, tax-free stadium: priceless, to some.
An "unusually lengthy and public" bidding process unfolded, with the Marlins handling it themselves to avoid paying bank fees. By May 2017, two main buyer groups had emerged as front-runners: a group of 16 partners that included former Yankees star Derek Jeter, former Florida governor Jeb Bush, and basketball great Michael Jordan, to be largely financed by venture capitalist Bruce Sherman; and a group led by Tagg Romney, the son of former presidential candidate Mitt Romney. Bush eventually switched over to Romney's group after a falling out with Jeter, according to the New York Times.
Winners and losers
On August 11, 2017, the Herald broke the news that Loria had reached an agreement to sell the Marlins to the Sherman/Jeter group for $1.17 billion. Jeter would take over as head of baseball operations, realizing his longtime dream of running an MLB team. "The lure of Sherman's money and Jeter's prestige" won out, according to the Times. The league's owners are expected to vote to approve the sale during their meetings in October.
How much of that $1.17 billion will local governments receive to help pay down the billions they invested in Marlins Park? Likely just a few million dollars.
How to keep from striking out:
Don't be intimidated by threats.. Bullies often have no intention of following through on their threats and are fully expecting you to cave. Take a clear-eyed view of the worstcase scenario, and work on developing a strong backup plan. Then bargain for everything you're worth.
Take the long view.. In the business world, one negotiation often leads to another. Think through the long-term implications of deal terms, analyzing the various scenarios that could play out, and then prepare for both the best- and the worst-case scenario.
Choose your partners wisely.. A businessperson's past negotiations can say a lot about him or her. Research potential negotiating counterparts' reputations in their industry and keep in mind that past behavior is an excellent predictor of future behavior.
Related Posts