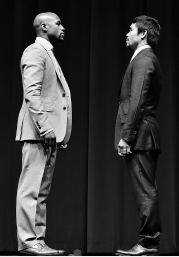 Perhaps it's no surprise that two boxers, bitter rivals, took many years to negotiate the terms of their hotly anticipated matchup. But the fact that a bout between Floyd Mayweather Jr. and Manny Pacquiao—held May 2 in Las Vegas—came together at all offers hope that even the fiercest competitors can secure a mutually beneficial agreement.
Hitting below the belt
Undefeated champion Mayweather, widely considered the best pound-for-pound boxer in the world, shocked many in June 2008 by announcing his retirement from the sport at age 31, saying boxing no longer brought him joy. As Pacquiao ascended in the rankings, however, Mayweather quickly reconsidered, coming back to defeat number two–ranked fighter Juan Manuel Márquez.
Speculation about a Pacquiao-Mayweather fight went into overdrive, according to Kevin McRae, writing in the Bleacher Report. Having commenced the traditional prefight trash talk, the boxers hashed out the details for a 2010 fight, agreeing to a date and a 50-50 split of the purse. Pacquiao reportedly balked, however, when Mayweather asked for random blood testing up to the time of weigh-in. Pacquiao's promoter, Bob Arum, accused Mayweather of taking advantage of the fact that his client "gets freaked out" by blood tests, according to MLive.com.
The talks were further complicated by the fact that Mayweather reportedly despises Arum, his former promoter, whom he has accused of taking advantage of him. In addition, the two boxers have deals with different cable channels—Pacquiao: HBO, Mayweather: Showtime—making TV rights to the match tricky to negotiate.
The round of negotiations fizzled out when Pacquiao filed a defamation lawsuit against Mayweather and senior members of his team after Mayweather's father (a retired boxer) suggested that "with steroids in him or not," Pacquiao wouldn't be able to beat his son, reports MLive.com. The lawsuit settled out of court, with Mayweather's team issuing a statement saying they had no evidence that Pacquiao had ever engaged in doping.
Throwing in the towel
In 2010, the two camps bickered publicly about whether or not they were negotiating, and a video of Mayweather baiting the Filipino Pacquiao with racial slurs appeared online. (Mayweather quickly apologized.)
In 2012, Mayweather phoned Pacquiao directly and tried to get him to accept a flat fee of $40 million for a fight. Pacquiao refused, according to ESPN, noting that he might earn much more from a pay-per-view bout. In a 2013 interview with FightHype.com, Mayweather said that a fight with Pacquiao "at this particular time, will never happen" because "I will never do business with Bob Arum again in life."
Pulling their punches
In 2014, rumors began to circulate that Pacquiao was on the ropes for millions in back taxes and was therefore highly motivated to agree to a fight with Mayweather. Pacquiao denied the story, but he had much to prove, having lost two fights in 2012. Mayweather, meanwhile, was dogged by rumors that he was dodging Pacquiao for fear of blemishing his perfect record.
A breakthrough came on January 27, 2015, when Mayweather and Pacquiao ran into each other at a professional basketball game—the first time they'd ever met in person. After the game, the two holed up in Pacquiao's hotel suite to talk and then met a few days later to plan their bout, writes Bernard Fernandez in Bleacher Report. The chance meeting "cleared up a lot of doubts in both of their minds and sort of renewed their commitment to getting this fight done," Showtime executive Stephen Espinoza told Fernandez.
Over the next month, the boxers' representatives and HBO and Showtime hashed out a deal. Showtime's ongoing six-bout deal with Mayweather so far had proved financially disappointing. Motivated to boost profits, Leslie "Les" Moonves, the president and CEO of CBS, Showtime's parent company, played a leading role in the talks. Espinoza credits Moonves, "someone that all parties in this negotiation respected," for being the "catalyst" for the deal: "He refused to take no for an answer from any side."
HBO and Showtime reached a deal to jointly produce the bout. Ultimately, Pacquiao made the most significant concessions, agreeing to take 40% of the purse to Mayweather's 60%, to receive second billing, and to allow his opponent to enter the ring first.
At press time, the winner of the May 2 match was unknown. With the long negotiations having carried the boxers into the twilight of their careers, some fans predicted the fight would be anticlimactic—yet it was still expected to break pay-per-view records.
Three tips for entering the ring with archrivals:
Resist the urge to trash-talk.
Publicly disparaging a would-be counterpart will get you nowhere fast. If you have grievances to air, do so privately.
Years of arm's-length impasse gave way to agreement after a chance run-in between Mayweather and Pacquiao. Don't wait for fate to bring you together; arrange a sit-down instead.
Enlist a trusted referee.
When trust is low, consider bringing in a third party whom both parties respect to push talks forward, as the boxers did with Moonves.
Related Posts