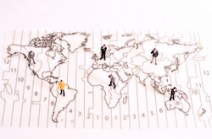 With thorough preparation, the help of a trained mediator, and useful reports from subgroups, participants in a multiparty negotiation should be able to find their way to the trading zone. Once they've arrived, the next step is to work together to ensure that everyone's interests are met.
In the trading zone, parties must identify and address disagreements quickly and correct miscommunications before relationships deteriorate.
For example, consortia that come together to work out complex construction contracts almost always form partnering agreements – arrangements to meet regularly to take up any misunderstandings that have arisen.
Another key to progress in the trading zone is a clear commitment to joint problem solving. Once negotiators agree to seek out wise tradeoffs, they almost always succeed.
To prosper in a multiparty trading zone, you also need to pursue a carefully crafted coalitional strategy, building alliances to increase your leverage.
It's important to do this in a way that doesn't undermine relationships with those who may have started out as your antagonists in a blocking coalition, only to emerge as potential members of a winning alliance.
When others approach about joining their coalition, be sure to respond with caution and tact.
When a group succeeded in generating a number of proposals or package deals, how should they decide which one prevails?
Clarity about the group's decision rules is crucial.
A commitment to unanimity as a decision rule is usually a mistake, inviting sabotage by those who care more about a pet issue than about the overall success of a negotiation.
Majority voting is also undesirable; large numbers of parties can be boxed out entirely, leading to unstable agreements as disgruntled minorities look for opportunities to sabotage implementation of whatever agreement emerges.
Most of the time, agreement by an overwhelming majority – what we call consensus agreement – is the best decision rule. Under such a rule, parties should strive to seek unanimity, but settle for near-complete agreement after every effort has been made to meet everyone's interests.
Finally, keep in mind that the structure of the negotiating forum itself – that is, the ground rules that constrain the way a multiparty negotiation unfolds – will be a constant topic of conversation in a multiparty negotiation.
Negotiators need to be able to quickly size up and react to possible changes in group membership and communication.
By paying close attention to coalitional strategies and the changing BATNAs of all parties, multiparty negotiators can learn to pursue their interests and succeed in the trading zone.
Related Article: Managing Group Interactions in Multiparty Negotiations
Related Posts