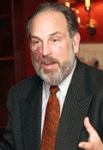 Program on Negotiation Executive Committee, Vice-Chair, Education
Director of the MIT-Harvard Public Disputes Program
Ford Professor of Urban and Environmental Planning at MIT
Professor Lawrence Susskind, a co-founder of PON, is currently Director of the MIT-Harvard Public Disputes Program, Director of the Environmental Policy and Planning Group at MIT, and Senior Consultant at the Consensus Building Institute, a not-for-profit that provides environmental mediation services. CBI is currently involved with a wide range of resource management disputes worldwide. Susskind's research interests focus on growth management in the Boston metropolitan area, autonomy for indigenous peoples around the world who want to manage their own lands and natural resources, negotiation of water and other multilateral treaties, and alternative energy production facilities. Susskind is the author or co-author of fifteen books including, most recently, Breaking Robert's Rules (Oxford, 2006).
Email:susskind@MIT.EDU
Website: Lawrence Susskind