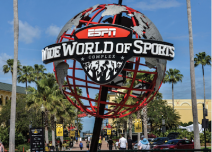 As a model of how negotiators can make lemonade out of lemons amid the global pandemic, the agreement
between the National Basketball Association (NBA) and the National Basketball Players Association (NBPA) to wrap up their disrupted 2019–20 season appeared to stand out as a nearly textbook case. The two sides reached a deal in early June aimed at allowing 22 of the league's 30 teams to finish out their season beginning in July as safely as possible—and in Disney World, no less. But as news of the agreement emerged, displeasure with it began building within the rank and file.
Nothing but blue skies?
When the NBA season was halted on March 11, about 80% of the season had been played. The league soon began scouting out sports complexes where, to reduce transmission of Covid-19, the rest of the season could be carried out in isolation. Games would be played without spectators and televised.
Disney World's ESPN Wide World of Sports Complex, a sprawling 220-acre facility near Orlando, Fla., quickly emerged as the front-runner, Brooks Barnes reports in the New York Times. The self-contained nature of the complex was immediately appealing. Players, coaches, and staff could stay at hotels in a gated area of the Disney World resort, creating a semiprotective bubble from the virus. (The resort was set to begin a phased reopening on July 17.) Three arenas could be divided into 20 basketball courts, and the complex is already wired for broadcasting, according to the Times.
The fact that NBA commissioner Adam Silver and Disney executive chairman Robert Iger had already established a "bromance" built on successful past negotiations helped move talks forward, the Times reports. Disney pays the NBA an estimated $1.4 billion annually to broadcast games on ESPN and ABC; NBA would pay tens of millions of that back to rent the ESPN facilities. The NBA's presence would give Disney an implicit public-safety stamp of approval around the time tourists return to its major theme parks.
A significant number of players were frustrated by their lack of say in decisions that put their health on the line.
Closing in on a deal
The NBA's talks with Disney were intertwined with negotiations with the NBPA, led by president Chris Paul, a point guard for the Oklahoma City Thunder. The thorniest question was how many teams to bring to Florida. Given that basketball is an indoor contact sport likely to have a relatively high risk of Covid-19 transmission, the parties agreed not to bring all 30 NBA teams to Florida. However, bringing only the 16 teams in playoff positions would be unfair to teams that had been close to securing playoff spots when the season was halted and, perhaps a bigger concern, would limit broadcast revenue.
Spending most of May "looking for a compromise ranging from 20 to 24 teams," the two sides split the difference at 22, Marc Stein reports in the Times. Following a training period, each team is scheduled to play eight regular-season games for a total of 88 games, followed by the league's usual four best-of-seven-games playoff rounds. The remainder of the season is set to unfold from July 31 to October 12.
To reduce the risk of Covid-19 transmission, each team would be limited to about 35 people, including players, down from the usual 50-plus. A limited number of family members would be able to join team members after the first round of playoffs. The parties held off on negotiating specific coronavirus-protection measures, such as a possible quarantine upon arrival at the resort and the mode and frequency of coronavirus testing.
Mounting objections
As talks were wrapping up, everything changed. George Floyd was killed on May 25, and many NBA players—about three-quarters of whom are Black—sank into grief, anger, and frustration. The league and the leadership of most teams reached out to employees to acknowledge their pain. But New York Knicks owner James Dolan, a friend of President Donald Trump, declined to release a statement denouncing Floyd's killing or supporting the Black Lives Matter movement—a decision deeply troubling to many.
Still, plans to restart the season went forward. On June 4, NBA owners approved the negotiated agreement in a 29-to-1 vote. NBPA representatives approved the deal the same day.
Misgivings arise
The story was not over, however.
To begin with, NBPA executive director Michele Roberts told ESPN that she was concerned about the NBA's tentative plan to open training camps for the 2020-21 season on November 10. That was only about a month after the scheduled end of the NBA Finals in Orlando, two months less than the usual break between seasons. Starting the season in early December would allow players to play in the 2021 Tokyo Olympics.
But a bigger problem was brewing: A significant number of players were frustrated by their lack of say in decisions that put their health on the line and that would isolate them from their families. The NBPA comprises nine executive committee members, led by Paul, and one player representative from each of the 30 teams, reports CBS Sports. Some players felt they were not adequately consulted during the approval process. All players who would be going to Florida should have had a vote, they argued, particularly given that Covid-19 was surging in the Orlando area. Each player may decide whether to join his team, but those who don't come to Florida won't be paid. Team doctors are also assessing players' health and may decide to hold back those who are at high risk of being harmed by the coronavirus, such as those with asthma.
An uncertain outcome
In light of the George Floyd tragedy, "some players believe it's bad optics for a league comprised predominantly of Black men to be sequestered in one location for up to three months merely to entertain the masses and ease the league's economic burden," Chris Haynes wrote in Yahoo Sports.
"We're out here marching and protesting," one Black player told Haynes, "and yet we all leave our families in these scary times and gather to perform at a place where the owners won't be at? What type of sense does that make? We'll be going backwards. That place isn't that magical."
The fact that the league hadn't yet laid out its safety protocols when the agreement was reached added to the players' concern. A growing group of them reportedly began meeting on Zoom to discuss how they might take a stand. Meanwhile, some of the game's top players had the opposite concern—that the Disney "bubble" was too restrictive, according to CBS Sports, making for "very little common ground in an already divisive situation."
The situation highlights the importance in negotiation of being responsive to changing events. Both the pandemic and the upheaval sparked by Floyd's death have created immense uncertainty for negotiators.
Although the parties to the NBA deal may have believed they arrived at a win-win agreement, players' heightened awareness of the health risks and constraints they are being expected to assume in the service of profit cast doubt on that belief. By late June, several NBA players had decided to sit out the rest of the season for various reasons, such as guarding against injury, protecting vulnerable family members from Covid-19, and protesting racial injustice. With several NBA players testing positive for the disease even before teams headed to Florida, it remains highly uncertain whether players and staff can stay safe—and whether the league's gamble will have been worth it.
Related Posts