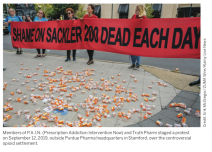 In the 1990s, U.S. drug manufacturers unwittingly set a national crisis in motion when they began marketing new and highly addictive prescription opioid medications for the treatment of pain. Between 1999 and 2017, about 400,000 Americans died from a drug overdose involving an opioid, including both prescription and illegal drugs. By 2015, the opioid crisis had cost the nation more than $500 billion in lost productivity and taxpayer funds spent on health care, law enforcement, care for children of addicts, and other costs, according to a White House Council of Economic Advisers report.
Along with several other drug manufacturers, Stamford, Conn.–based pharmaceutical firm Purdue Pharma was widely blamed for giving rise to the epidemic. For years, critics say, the company aggressively marketed its extended-release opioid, OxyContin, while downplaying its addictive properties. OxyContin has had more than $35 billion in sales since its launch in 1996, according to the Wall Street Journal.
By 2018, all but two U.S. states and about 2,300 local and tribal governments and other entities, including unions and hospitals, had taken legal action against Purdue Pharma for its role in the opioid epidemic. Founded in 1952, Purdue Pharma is owned by the Sackler family; some family members have worked for the company or served on its board. Many of the suits also accuse Sackler family members of misleading the public regarding their products and draining money from the company, according to CNBC.
The Sacklers have said any withdrawals they made from Purdue were appropriate and that they were not actively involved in managing the marketing of OxyContin, claims disputed by states attorneys and plaintiffs' lawyers. In 2007, Purdue pled guilty to felony charges and agreed to stop misrepresenting the addictive qualities of OxyContin. Yet after collecting $400 million in profits from Purdue during the first nine months of 2013, the Sacklers, facing lower fourth-quarter profits, supported a plan for OxyContin sales representatives to target "high- prescribing" doctors, according to a Massachusetts attorney general lawsuit.
New York attorney general Letitia James said that with the settlement, the Sacklers are "attempting to evade responsibility and lowball millions of victims of the opioid crisis."
Bloomberg estimates the Sackler family's net worth at about $13 billion, but some critics believe it is much larger. Several U.S. states accuse the family of hiding funds taken from Purdue in a complex web of companies and trusts all over the world in order to shield their money from plaintiffs and potential bankruptcy proceedings, CNBC reports. Facing declining sales in recent years, Purdue has laid off employees and sold one of its manufacturing plants.
Opening moves
A federal trial targeting Purdue and many other opioid drugmakers and distributors was set to begin on October 21, 2019, in Cleveland. In 2018, the federal judge overseeing the trial, Dan A. Polster, persuaded the approximately 2,300 plaintiffs to try to jointly negotiate a settlement with Purdue. Attorneys general from nearly two dozen states were brought into the talks as well, though the states are not parties to the federal litigation. The goal: Negotiate compensation for taxpayer funds spent on medical treatment, social services, and other costs resulting from OxyContin addiction and overdoses.
Unfolding over the course of a year, settlement talks largely focused on how much the Sacklers should pay plaintiffs; whether Purdue, which still manufactures OxyContin (redesigned to be more difficult to abuse), should declare bankruptcy or stay in business; and what to do with the Sacklers' global pharmaceutical business, Mundipharma.
The plaintiffs first demanded $6 billion in cash from the Sacklers; the family's representatives called that figure a nonstarter. At one point, Purdue reportedly offered to deliver part of its payment in the form of the overdose-reversing drug naloxone; the plaintiffs flatly refused, the Associated Press reports. Some states attorneys wanted the Sacklers to sell Mundipharma immediately and turn over the profits to the plaintiffs and also make a $1.5 billion up-front payment. The Sacklers rejected that proposal, saying they wanted to keep selling OxyContin and other drugs abroad for up to seven more years.
A draft deal
On August 27, 2019, NBC and Reuters reported that the Sacklers were considering settling the 2,300 lawsuits for up to $10 billion to $12 billion. Rather than entering into bankruptcy protection, Purdue would be restructured as a for-profit "public benefit trust corporation" with the goal of paying plaintiffs $7 billion to $8 billion through drug sales. The Sacklers would pay $3 billion in cash over seven years, plus an additional $1.5 billion from the possible sale of Mundipharma. In return, plaintiffs would drop their lawsuits against Purdue and the Sacklers.
After the proposed settlement leaked to the press, attorneys general of wealthier states, including New York, Massachusetts, and Connecticut, excoriated it as far too weak. The predicted payouts would cover only a small fraction of the costs of the opioid epidemic, they said. These states, which could afford to investigate the Sacklers on their own, wanted the family to pay more and for Purdue to get out of the opioid business. Many of the local governments suing Purdue, however, seemed more willing to settle.
Looming over the tentative deal was the threat that the Sacklers would take Purdue into bankruptcy protection on their own, which would likely remove it from the trial. Such a move could force plaintiffs to compete with one another and the drug company's creditors for its remaining assets, and could also shield the family's personal wealth from creditors.
Settling for something
The news leaks set off another round of negotiations. Pressed by the states to guarantee that the Sacklers would personally pay $4.5 billion, Purdue refused and failed to make a counteroffer, according to the attorneys general of Tennessee and North Carolina.
On September 8, the Associated Press reported that Purdue was walking away from the table and was likely to file for bankruptcy, which would effectively remove it from the Cleveland trial.
"Now I'll sue the Sacklers personally," Pennsylvania attorney general Josh Shapiro tweeted. Such threats, plus the fact that Judge Polster had issued tough pretrial rulings against Purdue and other drugmakers, likely motivated the Sacklers to return to the table.
On September 11, Purdue, the Sacklers, the 2,300 plaintiffs, 24 states, and five U.S. territories reached a settlement that Purdue valued at $10 billion, the New York Times reports. Under the terms of the deal, Purdue would file for Chapter 11 bankruptcy and be dissolved. A new company, not owned by the Sacklers but managed by a group of trustees, would then be formed, with its profits used to pay plaintiffs. Whether that company would sell OxyContin remained an open question, lead plaintiffs' attorney Joe Rice told NPR. The Sackler family, without admitting wrongdoing, agreed to pay $3 billion in cash over seven years and also to contribute proceeds from the sale of Mundipharma for an estimated $1.5 billion. Purdue also promised to donate drugs for addiction treatment and overdose reversal.
At least 10 U.S. states, led by Massachusetts and New York, rejected the deal, saying Purdue's valuation of its worth was speculative and that proceeds could take years to materialize, the Times reports. These states have sued the Sacklers, or plan to, and vowed to track down the family's fortune. New York attorney general Letitia James said that with the settlement, the Sacklers are "attempting to evade responsibility and lowball millions of victims of the opioid crisis," according to NPR. The State of Massachusetts said it would challenge Purdue's bankruptcy filing, which it set into motion on September 15.
"Nobody walks away from a tough negotiation feeling like a winner," plaintiffs' lawyer Paul Geller told the Times. Two days after the settlement was revealed, the Times reported that James's office had tracked about $1 billion in wire transfers by the Sackler family, including through Swiss bank accounts—possible evidence that the family tried to shield wealth from its accusers.
Holding parties accountable
Getting individuals and organizations to compensate you for perceived wrongdoing is rarely easy. These three guidelines can help:
1. Consider joining forces. When you team up with other parties in your situation, you may gain the muscle you need to convince alleged wrongdoers to negotiate with you. As your team expands, be aware that various factions will have different interests that need to be negotiated and managed internally. More powerful parties may be able to push through tougher deals, while the less powerful may be more attuned to the risk of impasse.
2. Strive for a settlement. Though the threat or prospect of a lawsuit can be a powerful tool, you may be able to reach a more creative deal by negotiating out of court, saving time and money in the process. Negotiations typically give disputants a greater opportunity to make tradeoffs across the issues that matter most to them.
3. Determine your ethical red line. When negotiating with those we believe have wronged us, we may face difficult ethical questions, such as whether to accept profits from actions that have harmed us or others. Take time before and during the negotiation process to set your ethical red line—what you are and aren't willing to accept.
Related Posts